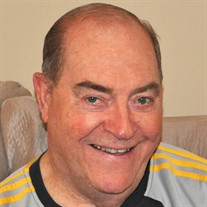 Robert Joseph Sweeney (Bob) passed away at age 86 at his home in Upper Marlboro, MD on Friday, July 3, 2020. Beloved husband, father, grandfather, and great-grandfather, he was greatly loved and will deeply be missed. Bob was born in Washington, DC on September 19, 1933, and spent his entire life in the Washington area. He is survived by his loving wife, Gloria, of 62 years; his son Robert J. Sweeney (Dottie) and daughter Cheryl A. Magruder (John); grandchildren John R. Magruder (Rhiannon) and Kimberly A. Collins (David); and great-grandchildren Camryn, Liam, Allisyn, and Emily. Bob is also survived by his siblings John "Jack" Sweeney, David Sweeney, and sister Evelyn Quillin. He was pre-deceased by brothers Richard Sweeney, Harry Sweeney, and step-brother John Pyles.

Bob enlisted in the United States Air Force and served as an Airman First Class from 1952 to 1956. On April 28, 1958, he became a Washington, DC Firefighter. Bob served with Engine 20 and Engine 22 until his retirement in 1980 after 22 years of service. It was a job he was very proud of, and many of the stories he would tell always seemed to go back to his days at the firehouse. After his retirement, Bob drove a school bus for the Prince Georges County Maryland School System for 17 years.

Bob loved spending time with his family. Getting together for family celebrations and going out to enjoy a meal were times he cherished. He was also a lifelong Redskins fan and enjoyed cheering for the Washington Nationals.

Visitation and service will be held at Lee Funeral Home, 8200 Jennifer Lane, Owings, Maryland on Tuesday, July 14, 2020. Visitation will be from 12:00pm to 4:00pm with a service being held from 4:00pm to 5:00pm. Private family burial is to be scheduled for a later date at Maryland Veterans Cemetery – Cheltenham.