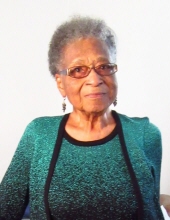 Let not your heart be troubled: believe in God, believe also in me. In my Father's house are many mansions; if it were not so, I would have told you; for I go to prepare a place for you. And if I go and prepare a place for you, I come again, and will receive you unto myself; that where I am, there ye may be also. And whither I go, ye know the way. John 14:1-4

Ruth Reynolds was born on March 22, 1923, to the late Alexander Gantt and Rosie Johnson.

Ruth departed this life peacefully, on Tuesday, June 30, 2020 at home. Ruth received her education in the public schools of Calvert County, where she graduated from Brooks High School. At an early age she attended church and Sunday School and later confirmed her membership at Brooks United Methodist Church. A devote Christian, Ruth was an active member in many church programs and always gave her support.

Ruth always exhibited a caring heart for her fellow man. She would often go out of her way to ensure others were cared for before before taking care of herself. Her love of poetry was evident as she often recited a variety of poems at Church functions and other occasions. Many years ago she fell in love with the phrase, "Hold high the torch". This phrase soon became the family's standard bearer to not only to always seek excellence, but to continue to light the way for others to accomplish as well.

She is preceded in life by her husband of sixty-six years, Leon Reynolds; son Lemuel Maurice Reynolds; brothers Cephas Gantt, Abraham Gantt, Harry Gantt, and Charles Gantt; sisters Elizabeth Haley and Ella Mae Gross. She leaves behind to cherish her memories seven children; Leon Linwood Reynolds (Carolyn), William Alexander Reynolds (Gail), Helen Patricia Bailey-Durant (Luther), Doris Ann Kallon (William), Samuel Randel Reynolds (Brenda), Douglas Olando Reynolds, Deborah Denise Robinson; six sisters, Theresa Miles, Helen Commodore, Margret Chase, Edith Commodore, Vivian Summerville, Marcellas Ingram, seventeen grandchildren, eighteen great grandchildren, five great great grandchildren, Cousin Mary Perry, a special friend, Ms. Christine Long and a host of family and friends.

Lovingly Submitted,
The Family

In lieu of flowers, the family requests that donations be made in honor of Ruth Reynolds to Calvert Hospice.