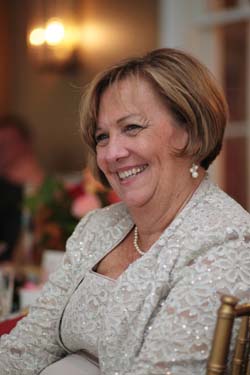 Grace Ann Quade, 65, of Leonardtown, Md passed away at home on July 4 surrounded by her loving family.

Grace Ann was born on November 30, 1954 to Matthew W Quade Sr. and Ann Hall Quade. She grew up in Bushwood, Md. Grace Ann attended Holy Angels-Sacred Heart School. As a young girl she joined 4H, she learned to play piano, and she took ceramic classes. She babysat for many Seventh District families. Grace Ann graduated from St. Mary's academy in 1972 and later attended Charles County Community College. After college Grace worked as an IT specialist at Webster Field for 35 years. She talked frequently about her coworkers turned friends she made there. For many years Grace Ann also worked at Duke's Bar in Leonardtown where she met her husband, Benedict D. Duke Jr. She was a member (captain) of the Duke's Bar Women's Pool Team. She and Dickie married on June 28, 1991. They have lived at their home on Breton Bay since their marriage. Together they loved to host cookouts for their family and friends at their home.

Grace Ann was a caring wife, mother, family member, and friend. Many considered her a second mother, grandmother or other family member. She was exceedingly kind and thoughtful. She could always be counted on to help, and she found great joy in caring for others. One of the things she liked to do best was sit and chat with others. She was incredibly easy to talk to and a great listener. One of Grace Ann's hobbies was taking photographs of Breton Bay and the nature/wildlife surrounding it. She also enjoyed taking pictures of all family gatherings. Her and her mother's strawberry jam was in high demand from family members. "Granny" had a soft spot for her grandson (and all children). She spent as much time as possible with him. Grace Ann was a member of St. Aloysius church and valued her prayer groups and classes. Grace Ann was a volunteer at the Blackistone Lighthouse on St. Clements Island. She looked forward to her yearly family trips to Ocean City. She was loved by many, will be missed sorely, and leaves behind quite a legacy of kindness.

In addition to her parents and husband, Grace Ann is survived by her children Sarah Duke (John Kane) and Robbie Duke; her grandson Owen Kane; and her brothers Matt Quade, Greg Quade, Danny Quade (Lisa), and Andy Quade; her nieces and nephews Caitlin Listorti (Anthony), Matthew Quade III, Lindsay Quade (Jordan F), Sean Quade (Rachel), Billy Quade, Heather Bean (Jason), Chris Quade (Casey), John Wilson, and Paul Wilson. She leaves behind her sisters-in-law Ellen Duke Wilson (John) and Diane Dorsch. She is preceded in death by her sister-in-law Rosemary Quade and her brothers-in-law Robert S. Duke and Walter "Pop" Duke.

Family will receive friends on Saturday, July 11, 2020 from 10:00 a.m. to 12:00 p.m., at St. Aloysius Catholic Church, 22800 Washington Street, Leonardtown, MD 20650. A Mass of Christian Burial will be celebrated by Reverend David Beaubien at 12:00 p.m. Interment will follow at Sacred Heart Cemetery, Bushwood, MD.

Memorial contributions may be made to the St. Clements Hundred, P.O. Box 71, Colton's Point, MD 20626.

Condolences to the family may be made at www.brinsfieldfuneral.com.