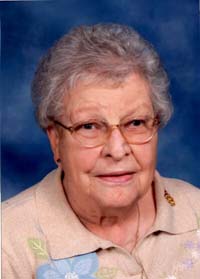 Barbara Jean Bayne, 89, of Ridge, MD, passed away July 3, 2020 at St. Mary's Nursing Center, Leonardtown, MD.

On July 10, 1930 in West Virginia to the late Walter Scarbo and Vivian Peale.

On January 8, 1945 she married her beloved husband, Thomas Clyde Bayne. Together they celebrated over 58 wonderful years of marriage before his passing in May 2004. She was employed for many dedicated years as a bookkeeper with T Rowe Price until her retirement in 1986. Her hobbies included shopping and watching crime and war movies and television. She was active with Maryland Special Olympics. She also enjoyed her trip to Ireland in 2004 for Special Olympics.

Bobbie is survived by her children: Thomas F. Bayne of Ridge, MD, Theresa A. Fenhagen of Lexington Park, MD, and Barbara J. Bayne of Ridge, MD; her grandchildren: Phillip Bayne, Bradley Bayne, Tara Cole, Mary Peele, Crystal Joseph Ridgell, Amanda Joseph, and Tricia Joseph; her great-grandchildren: Heidi Ridgell, Hazel Ridgell, Reagan Cruz, Milo Cole, Nina Bayne, Lydia Cole, and Lucus Cruz; and extended family and friends.

Family will receive friends on Thursday, July 9, 2020 from 10:00 to 12:00 p.m. at St. Michael's Catholic Church, 16566 Three Notch Road, Ridge, MD 20680. A Mass of Christian Burial will be celebrated by Rev. Joseph Bayne at 12:00 p.m. Interment will be Thursday, July 16, 2020 at 10:00 a.m. at St. Michael's Church Cemetery, Ridge, MD.

Memorial contributions may be made to St. Mary's County Special Olympics, P.O. Box 921, Hollywood, MD 20636.

Condolences to the family may be made at www.brinsfieldfuneral.com.