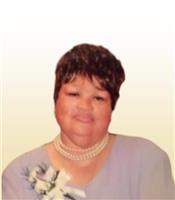 The Lord called Georgiana Cecelia Gray, 74, home on June 26, 2020 at Medstar Georgetown University Hospital. Georgiana was the wife of John Gray. The two shared fifty-four wonderful years of marriage together.

Georgiana was born on November 25, 1945 at St Mary's Hospital in Leonardtown, MD to her loving parents, James Foley Holt and Helen Marie Holt (Rustin). Georgiana attended St. Joseph's Colored School and graduated from Cardinal Gibbons High School. Georgiana was a dedicated employee as a Nurse's Aide at St. Mary's Hospital and the ARC Group Home. Georgiana also worked for Mini Tech on the assembly crew and for William's Packing Goods as a Cashier and Stock Clerk. Georgiana was an avid member of St. Joseph's Catholic Church and attended Mass every Sunday. Georgiana enjoyed volunteering at the annual church dinner and was a member of The Ladies Sodality. In addition, Georgiana was an active member of the St. Joseph's Community Center. Georgiana's favorite pastimes consisted of spending time with family, dancing, playing BINGO with her daughter and brother, and bus trips to the casino. You would find Georgiana sitting in her favorite spot on the couch watching the Game Show Network or CNN News. Georgiana loved to watch football and basketball; favorite teams were the Washington Redskins and the Washington Wizards.

Georgiana went by many nicknames that included, Baby Sis, Aunt Babe, Nana, Mama Gray, and Sister. She enjoyed her grandbabies that were the highlight of her day, whose nicknames were Baby Cakes and Little Man. Georgiana will be remembered for her strong faith, her love of family and friends, and her smooth dance moves.

Georgiana is survived by her husband John Gray, Daughter Deborah D. Gray (Sam), Sons Wayne M. Gray, John M. Gray (Sherita), two grandsons Christopher A. Miles (Brittany) and Johnny Gray Jr. and one great grandson Cameron A. Miles. Leaving behind four brothers, Joseph N. Holt, Robert A. Holt (LaVern), Harry I. Holt, and George F. Holt (Sarah). She is predeceased by her daughter Brenda C. Miles, her parents James Foley Holt and Helen Marie Holt, and her brothers James L. Holt, Francis A. Holt, William D. Holt, Sr., Charles L. Holt, Sr. and only sister Marie A. Mason.

Visitation and viewing will take place on Tuesday, July 7, 2020 from 6:00pm-8:00pm at Briscoe-Tonic Funeral Home, 38576 Brett Way, Mechanicsville, MD 20659. The Catholic Mass will be held on Wednesday, July 8, 2020 at 10:00am at St. Joseph's Catholic Church, 29119 Point Lookout Rd, Morganza, MD 20660. Interment will follow at St. Mary's Queen of Peace Cemetery, 38888 Dr. Johnson Road, Mechanicsville, MD 20659.

Memorial donations and flowers may be sent to Briscoe-Tonic Funeral Home, 38576 Brett Way, Mechanicsville, MD 20659.