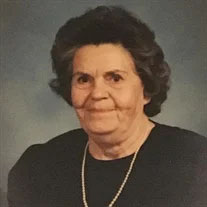 Julia H. Edelen, age 99, of Faulkner, MD passed away on Sunday, June 28, 2020 at her home. She was born on February 1, 1921, in Prince George's County, MD to the late Albert "Allie" Pratt Tayman and Edith Christina Rawlings.

Julia grew up in Upper Marlboro, MD; where she went to school, worked and lived until 1983, when she and her late husband moved to Charles County. Julia worked at Zibbles Department Store and then for the Prince George's County Government Board of Education, until she retired. She married Joseph Ray Edelen in 1938 and they were happily married for 50 years.

Julia enjoyed tending her vegetable and flower gardens while working in the yard, taking great pride in both.

Julia leaves behind: her son Joseph (Lana) Edelen of Faulkner, MD; grandsons James Edelen (Denise) of Newburg, MD; Joel, Steven (Melissa), Michael (Rhonda) and Timothy (Margaret) Edelen of Faulkner, MD and great-grandchildren: Zach, Kyle, Caroline, Ana, Abby and Lilly Edelen. She is also survived by numerous nieces, nephews and other family members.

She was preceded in death by her parents, husband, seven siblings, son James Edelen; grandson Jeffery Edelen, and great-grandson Oliver "Little Tree" Edelen.

A visitation will be held on Monday, July 6, 2020 from 10AM until time of service at 12Noon at the Raymond Funeral Service, P.A., 5635 Washington Avenue, La Plata, Maryland 20646. In accordance with COVID-19 guidelines, masks are required and social distancing is still in place. While establishments are operating at half capacity, we ask that all visitors be mindful of others.

Interment to follow at the Edelen Family Cemetery in Faulkner, Maryland.

Memorial contributions may be made to Christ Church La Plata, 112 Charles Street,
P.O. Box 780, La Plata, MD 20646.