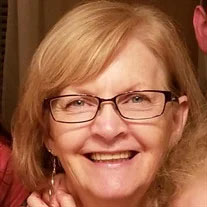 Connie Moore Wilder passed away peacefully and surrounded by family on 30 June 2020, in Hughesville, MD. Born 18 October 1952, the daughter of Maylon and Pearl Moore, she is preceded in death by her parents, beloved husband, Randy Earl Wilder, brother Bobby Gene Moore, and sister Mattie Pearl Aycock. Connie is survived by her son, Dustin Lee Thomas, his wife Wendy, and children, Dustin (Lee) Jr., William, and Skylar; her daughter Dava Brianne Stewart, husband Brian Stewart, and children, Kayleigh, Karson, Kaelyn (Emma), and Kayden (Ensley); and brother Maylon Leon Moore, and his wife Marie Moore.
She owned and operated Connie's in downtown Clayton, where she was stylist and friend to many for a number of years. Later she was recruited by the NC Board of Cosmetic Arts, where Connie, always the consummate rule-follower, became Chief of Enforcement. She was Mama, Grandma Connie, and Ooma. She was truly a beautiful lady, and will be remembered always by those that knew her for her kindness and her thoughtful heart.
A celebration of Connie's life will be held by her immediate family at a future date in Clayton, NC, where Connie's wishes will be honored and her ashes spread near her childhood home. In lieu of flowers, please feed the birds, that they may lift up her spirit the same way she always lifted ours.