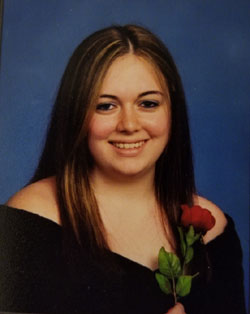 Ashley Nicole Rose, 29 of Hollywood died June 17, 2020, in Minneapolis, Minnesota.

She was born December 22, 1990 in Cheverly, Maryland she was the daughter of Nancy Allen and Charles Glenn.

She was a graduate of Victory Baptist High School. She was a grocery store clerk at a local grocery store. Her hobbies were music, scrap booking, reading, and cooking. She was an animal lover, she was friendly, compassionate, caring and fun loving. Her family was everything to her. She enjoyed shooting at the shooting range with her dad.

She moved to Minnesota to make a life with Paul Cody and have a family of her own.

She is survived by her parents Nancy Rose and Charles Glenn Rose.

Visitation will be Wednesday, July 1, 2020 from 10:00 AM until time of service at 11:00 AM at Solid Rock Baptist Church, Hughesville, Maryland. Burial will take place at Queen of Peace Cemetery, Mechanicsville.

Pallbearers will be David Rose, Phillip Hamilton, Paul Cody, Chucky Allen, Joe Allen, and David Richardson Jr.