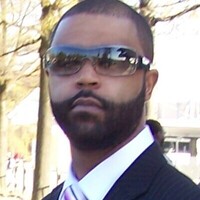 On June 1, 1979 the sun rose to welcome Lance Recardo Mordecai where he began his journey of life, and on June 19, 2020 that same sun set as Lance unexpectedly crossed the finish line of life.

Lance attended Suitland High School of Performing Arts, where he was selected out of 2000 candidates for his still art drawings.

Lance was very athletic and enjoyed sports. He played football, basketball, and ran track. He attended the Junior Olympics for track, where he won first place in Atlanta Georgia. He received numerous Presidential Physical Fitness Awards.

Lances' career path took him in many directions. He worked as an Inspector for DMV Washington, DC; Golden Line Services, LLC, Utopia Health Center, LLC; Anytime Labor, and Arlington County Government.at same sun set as Lance unexpectedly

What's in a name, Lance was very inquisitive, almost like an investigator, he had a thing for details dating back to his childhood years. He was very organized, clean and a neat freak. The meaning of his name Lance: (1) Highly Eccentric (2) Extra Tough and Super Sarcastic (3) Bold since birth (4) Will Keep it Real 100% (5) Fiercely loyal until you are not (6) Will beat you at your own game (7) Perfect Mixture of sweetheart and warrior (8) Say the most accurate facts (9) Master of walking Away. Lance agreed with all of these. How do I know? He posted it on Facebook and said, "I couldn't have said it better myself."

Lance was also very artistic and had the ability to draw and create still art, some of those original drawings remain on display at our mothers' home. Out of 2,000 candidates, he was selected for the School of Performing Arts while attending Suitland High School. Lance definitely walked to the beat of his own drum, and at times, that drum played so loud others didn't understand but it was the tune necessary for him to just be heard and acknowledged. He was like any other young man seeking to find his lot in life and on that journey, Lance found a few things he was certainly passionate about. One of them was his love for fashion, that developed out of watching his older brother Stephen, but then took on his own personality. Lance loved shoes, and his wardrobe speaks volumes to that love.

Lance also had a love for food, man he could eat, but there was no greater love that Lance had and that was for family. He absolutely adored his 3 beautiful daughters and would do anything to make sure they had everything they needed, but also what they wanted. He was the consummate father to those girls. He loved spending time with them, participating in the sidelines, cheering them on in their sports, and also helping explore their own life interest.

Over the years, Lance also developed a passion for riding motorcycles. He loved riding; it was his way of escape. It gave him that time and space to not only test the limits of speed, but to free his mind and be alone on the road with just him, the road, the power of the bike and the wind. It was his place of peace.

Lance was typically a loner, but he also had a close group of friends from his early childhood days that he remained in close contact with and co-workers that he connected and bonded with over the years.

Lance was preceded in death by his grandfather, Charles Briscoe.

Lance leaves to cherish loving memories, his grandmother Hazel Briscoe, parents Linton E. Mordecai and Gloria Mordecai; daughters Lanijah Mordecai, Nevaeh Mordecai and Gabriela Mordecai; brother Stephen Harris, step-brothers and sisters Christopher Mordecai, Keno Mordecai,Tasha Hall and Rachel Rose, and a host of cousins. Uncle Ronald Briscoe(Rocelyn); Aunts Romaine Best(Roy), Dianne Hawkins(Clifton), Patricia Hale(Richard), Sylvia Ferguson(Charles), Dineace Davis(John), Gale Queen(Emmitt). Nephew Collin Harris; Niece Kortni Harris; and a host of cousins and friends. He was passionate about spending time with his family and friends.

His Viewing will be, 10:00 am, until time of Service, 11:00 am, Monday, June 29, 2020 at Calvary Gospel Church, 11150 Berry Road, Waldorf, MD 20601.