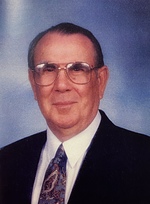 John Richard Knott, Sr., 95, of Hollywood, MD passed away on June 19, 2020 at his home in Hollywood, MD He was preceded in death by his wife, Virginia Pilkerton Knott, who passed on June 20, 2010. They were Happily married for 65 years. Richard was also preceded in death by his siblings; brothers Herbert Knott, Edward Knott, sister Margaret Knott. He was also preceded in death by his daughter Linda Ching Swarey and sons Charles William "Bill" Knott (Donna) and Leonard Knott (Margaret). He is survived by his children Johnny Knott (Donna), Darlene Ridgell Knott, Terry Knott (Donna) and grandson Shawn Knott (Susan). He had 17 grandchildren, 39 great grandchildren and 14 great-great grandchildren. As well as daughter in laws Margaret Knott and Donna Knott.
Richard was born to parents Charles W. Knott, Sr. and India Knott on March 9, 1925 in the "Knott House". Which was built for his parents, located on historic Sotterley Plantation in Hollywood, MD. His father worked 50 years as a farm manager at Sotterley. Richard himself and his brother Edward both worked at Sotterley for many years. In total, the Knott family worked for the owners of Sotterley for over 100 years. Richard grew up on Sotterley learning to hunt, farm and tending the animals. Later at the age of 18, he bought a farm on Forest Landing Road in Hollywood, MD, with his brother Herbert Knott. Soon after, he began buying and selling oysters from the Patuxent River and was a captain of an oyster buy boat for 25 years. Richard had fond memories of the time spent working on the water and loved sharing stories of the people he encountered along the way. He also was a very successful real estate agent and also raised tobacco, soy beans, corn and black angus cattle.
Later in life, Richard pursued an interest of local history. He, along with his grandson, Shawn, wrote Memories of Sotterley, The Good Old Days on the Patuxent and a book about local county legend, Buck Briscoe. Richard was very proud of them and was always eager to share his personal stories and make the stories come alive.
Richards' nickname was "Sharpie" and to his grandchildren he was known as "Poppy". He possessed an uncanny ability to recall facts and events; his memory was truly "sharp as a tack" until the end. He took great pleasure in retelling stories of yesterday and also making sure that you had the facts right on stories that you told. He had a sense of humor, paired with rugged, yet charming curiosity. He was definitely "old school" and had no problem telling it like it is. You always knew where you stood with him. He was truly a one-of-a-kind man. Although, he had the stern and heavy handedness needed of an ole' waterman, he also possessed an abundance of empathy and kindness when you least expected it. He loved caring for his farm, watching his cows and the baby calves grow strong. He also took great joy in seeing his grandchildren grow up over the years. He often bid you a fond farewell by saying "God Bless You". God Bless You Poppy. Rest in Peace.
The family will receive friends on Wednesday, June 24, 2020 from 6:00 PM to 8:00 PM with prayers recited at 7:00 PM in the Mattingley-Gardiner Funeral Home Leonardtown, MD. A Mass of Christian Burial will be celebrated on Thursday, June 25, 2020 at 10:00 AM in St. John's Catholic Church Hollywood, MD with Father Ray Schmidt officiating. Interment will follow in the church cemetery. Serving as pallbearers will be Steve Hoopengarder, Donald Insley, William "Allie" Raley, Jeff Franz, Charles William "Billy" Knott, Jr, and Francis Russell. Honorary pallbearers are Charles "Pete" Mattingly, Robby Ching, and David Knott.

A reception will be held postponed until COVID-19 social distancing law limitations are that so this special man can be honored properly.