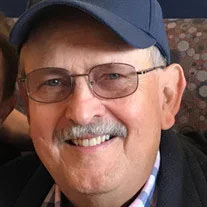 James Michael Burch, 67, of Waldorf, MD passed away peacefully on June 19, 2020. He was born on December 17, 1952 in LaPlata, MD and was the son of the late Thomas Oakley Burch and Ruth Frances (Quade) Burch.

He is survived by his daughters Jaime Lynn Burch of Waldorf, MD and Marissa Kay Dufresne-LeDuc of Epping, NH; his brothers Joseph Morris Burch of Charlotte Hall, MD, Ralph Clements Burch of Mechanicsville MD, Jennings Matthew Burch of Conway SC, Dennis Xavier Burch of Mechanicsville, MD; his grandsons Jackson Benjamin and Brayden Ross and his son in law Jeffrey Leonard LeDuc all of Epping, NH; along with so many Nieces and Nephews. Memories will be cherished by all. In addition to his parents he is preceded in death by his siblings; Mary Evelyn Nelson, Francis Stanley Burch, Richard Melvin Burch, Annie Victoria Morgan, Doris May Sorrell, Brenda Lee Alvey, Carolyn Burch, Mildred Burch and Thomas Oakley Burch, Jr.

James Michael Burch (Mike) worked at Pepco/Mirant for over 35 years. He enjoyed breakfast with his friends, social gatherings and loved spending time with and always making his daughters and grandsons feel special.

A Celebration of Life will be held Saturday July 25, 2020 at 11am, Charles Memorial Gardens Leonardtown, MD. In lieu of flowers, please send donations to Southern Maryland Food Bank or Hospice of Charles County the two causes that he last donated to before passing or share a memory in honor of him.