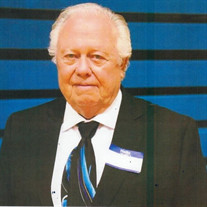 Fred W. Bias, 82, passed away peacefully on Monday, June 15, 2020 in his home in Welcome, Maryland.

Fred was born in Shelton, Nebraska on April 22, 1938. In school, he was a top athlete excelling in football and pole vaulting. He graduated from the University of San Francisco with a B.S. and went on to work for the Department of Defense and FAA for 34 years in the field of logistics. He served in the Navy for 10 years and was on the Enterprise during the Cuban Blockade. Throughout his adult life, he was a Mason with the Palestine Lodge #189 in Catonsville, Maryland and a 32° with the Scotland Rite out of Denver, Colorado. In his spare time, he enjoyed hunting and refurbishing M G automobiles.

Fred was born to the late Hugh Richard Bias and Viola Eva Mae Monthey. He is survived by his wife of 59 years, Lola Carlene Bias. He has three children, Denise Wells and husband Ray Lamb, DeAnna Bias and husband William Kearns, and Chad Bias and wife Sandi. He also leaves behind three grandchildren, Rachael, Amber, and Ashley Bias and a sister, Cherley Parker who is not local but from Kearney, Nebraska.

Funeral services will be private.