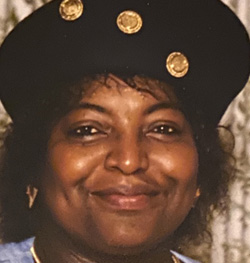 Sandra Renee Dyson "Sandy" was born, December 3, 1952 in La Plata, Maryland. She departed this life and gained her wings on June 10, 2020 at George Washington University Hospital in Washington, D.C.

Sandra was the oldest girl of eight children of the late Mary Ida "Sally" Barber-Dyson and George Dyson Sr. In addition to her parents, Sandra was preceded in death by her son, John "Tony" Dyson, two sisters, Rocheila Dyson and Bonita Drummond and brother, Joseph Dyson, Sr.

Sandra grew up in La Plata, Maryland and attended Charles County Public Schools matriculating to La Plata High School. She was employed with Melwood, a job she loved going to for 32 years. She enjoyed the times she spent with all of her family and also enjoyed watching her favorite television shows such as Gun Smoke along with the stories, good action movies and Tyler Perry movies. Sandra loved going to yard sales and enjoyed working in her yard admiring her beautiful flowers.

Left to cherish many memories, are her daughter, Daphane Savoy, sons, Gerald Dyson (Mary) and James Brown III (Stephanie); twelve grandchildren, Martin, Jahmel, Johrel, Jerome, Jaila, Janiece, Tavon, Brandon, Jessica, Shaunnita, Sanyah and Skylah and a host of great-grandchildren, two sisters, Ida "Diane" Heard (Garnell) and Tamalla Barber (Joe), four brothers, George Dyson, Jr. "Heavy D" (Sandra), Thomas "Tommy" Dyson (Dale), Robert Dyson and Sylvester Anderson; brother-in-law, Joseph Drummond; two aunts, Ophelia Jackson (Jack) and Mary "Aunt Sam" Dyson, uncle, Robert Barber (Tudy) two special friends, James 'Johnny" Monkister and Thomas "Tony" Ward and a host of nieces, including a special niece, Ayona "Trina" Heard, nephews other relatives and friends.

Viewing, 10:00 a.m. until time of Service, 11:00 a.m., Monday, June 22, 2020 in the Chapel of Thornton Funeral Home, P.A., 3439 Livingston Road, Indian Head, Maryland 20640. Interment, Heritage Memorial Cemetery, 13472 Poplar Hill Road, Waldorf, Maryland 20601.