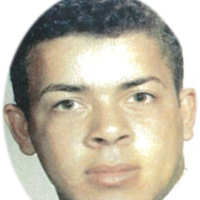 Charles Bruce Savoy (Age70) of Pomfret, Maryland.

Charles Bruce Savoy, affectionately known as "Rusty," went home on June 6, 2020 while at the LaPlata Center, Genesis Healthcare.

Rusty was born in Washington, D.C. on September 5, 1949 and raised in Pomfret, Maryland. He was the sixth of seven children of William Augustine Sr. "Gus" and Mary Gertrude Savoy. Rusty was baptized and confirmed at St. Joseph's Church.

He attended Pomonkey Elementary School and graduated from Pomonkey Jr., Sr. High School in 1968.

Rusty worked at a meat packing company for several years and then as a construction worker.

Rusty enjoyed spending time with family, cookouts, watching westerns and wrestling matches. He loved telling jokes and making people laugh. When he was with his friends, Rusty was always the leader of the pack. It seems that Trouble was always one-step in front of him and that kept him happy. However, when you needed him for anything, he would always be there for you. (He was sometimes clumsy, but he helped.) Young children would take to Rusty right away, became his friend, and did not want to leave him. They would go home and talk about Rusty, Rusty and Rusty. Rusty was always doing or being different from his siblings, we like Pepsi and he was a Coke devotee. We are Redskins cohorts and he was a Dallas crony.

Rusty was a loving father, grandfather, son, brother, uncle, cousin and friend. He leaves to cherish his son, Dion Weylin, five grandchildren; Anise, Diondre, Mia, Blake and Grace and his favorite sister – Joan; three sisters-in-law; one brother-in-law; nieces, nephews, two aunts, three uncles, cousins, other relatives and friends. He was preceded in death by his parents, Gus and Gertrude, sister, Judy; four brothers; Jr. "Doc", Jerome, Wayne and Tommy. He was married to Phyllis Proctor and Sidondra Mason (deceased).

Rusty will be truly missed by all that knew and loved him.

Pomfret will miss seeing him collecting mail for the senior relatives on Marshall Corner Road.

His Viewing will be, 9:30 am until 10:30 am, Monday, June 15, 2020, in the Chapel of Thornton Funeral Home, P.A., Mass of Christian Burial, 11:00 am, St. Joseph's Catholic Church, 6590 St. Joseph Way, Pomfret, Maryland 20675. Interment, Church Cemetery.