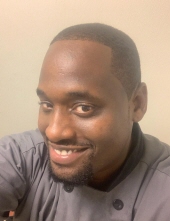 Keith Griffith Jones, 32, was born on June 24, 1987 to Gloria P. Jones and the late
Kenneth G. Jones in Calvert County, MD. He departed this life on Saturday, June 6, 2020 in Prince Frederick, MD.

Keith received his education in the Calvert County Public School System and graduated from Northern High School in 2006. Keith was employed at Rod and Reel Resort Restaurant in Chesapeake Beach and the Dollar Tree in Prince Frederick, MD. He was such a hard worker and took pride in his places of employment. He accepted Jesus Christ as his Lord and savior at an early age at Landmark Baptist Temple in Huntingtown, MD.

Keith was proceeded in death by his father Kenneth Graham Jones; cousin, William (Porky) Barnett; niece, Tareeka Jones; uncles Lemuel "Billy" Brown, Emory Jones (Delores) and Clifton Jones (Magnolia); cousin, Noveen Wills; brother, Tony Jones; maternal grandparents, Isaac Brown Sr. and Dorothy Brown; paternal grandparents, John Jones and Virginia Jones.

Keith leaves to cherish his memories: Mother, Gloria Jones; two daughters, Shania Jones and Kimoriah Jones; eleven siblings, Kenneth Jones (Pat), Marvin Jones (Elaine), Regina Jones, Cynthia Jones-Green (Jerald); Olivia Jones (Darryl); Paige Jones (Simone); Kingsley Jones; Twanda Jones-Reid (Troye), Maretta Plater (Jr); Kenneth Jones Jr. (Sarah); nieces, Ternaeja Height, Tamekia Jones and Brianna Jones; nephews, Terrance "TJ" Height, Jayven Creek, Avery Jones and baby William Jones; special friend, Donita Wallace; uncles, Eugene Brown (Lorraine), Isaac Brown Jr. (Brenda), Gary Brown and Halston Jones; aunts, Helen Brown and Theophia Kentish (Trevor), Vera Brown, Lucy Kent (James) and Vivian Wills (Robert); and a host of cousins and friends.

Keith loved his kids, family, friends and his mother, Gloria. Keith had a constant smile of gold and is one of the hardest workers we know. We will always remember him as a son, brother, father and friend to so many.