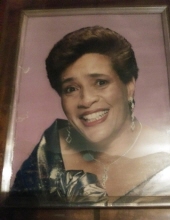 Patsy Morsell, daughter of Helen Reid was born on November 27, 1941 in Prince Frederick Md. She was the granddaughter of Jessie and Lydia Reid. Patsy was raised on a large family farm in Huntingtown Md. As a child growing up on a farm there was always lots of hard work. Patsy along with her cousins Lucille, Buddy, Preston, Cordell, Walter, and MacArthur worked Tobacco which was the main source of income for the family.

She attended Plum Point Elementary School and graduated Brooks High in 1960.

Patsy came to know the Lord at Plum Point United Methodist Church at an early age and attended regularly with her family.

After high school Patsy moved to DC to live with her mother who had moved there earlier. She was later joined by her cousin Lucille. She enjoyed a very vibrant life in DC. She meet and became very close to a young family who lived in her building. They were Glenda, Daisy, and Cisco who were like her children and she treated them like the children she never had. As they became adults they maintained their close relationship.

Patsy retired from Guest Services, where she worked for about 30 years.

She had many loving customers and coworkers that developed over those many years.

Patsy enjoyed dancing and cooking. Motown Artist were her favorites. Her food specialty was fried chicken, cabbage and potato salad.

Special thanks to Tasha Reid for her caring assistance in Patsy's care.

God in his infinite wisdom called Patsy home on June 9, 2020, at Edgewater Health and Rehab in Edgewater MD after a slow debilitating injury.
Patsy was predeceased by her Mother Helen Reid, 3 Uncles 4 Aunts. Fond memories of Patsy are left by cousins, Lucille, Walter, Cordell, Tekoa, MacArthur, Thelma, Linda, GG, Clifton, James, Mabel, Troye, Clarence, Regina, Eugenia and extended family Henry, Glenda and Daisy.