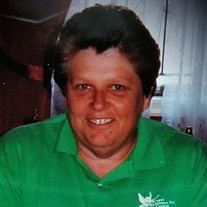 Deborah Loretta Greer, 68, of Lexington Park, Maryland, formerly of Lebanon, Virginia, passed away on Friday, June 12, 2020 at 3:48pm, at MedStar St. Mary's Hospital in Leonardtown, MD.

Born on October 12, 1951 in Welch, West Virginia, she was the daughter of the late Alma Louise Robinson Jessie and Elihue Greer Jr.

Debbie worked as an Extermination Technician for Angel Systems, Inc. in Great Mills, until she retired. She enjoyed fishing, loved Clydesdale Horses and was a very avid animal lover! Debbie was also a member of the ASCPA.

She is survived by her sisters, Janet L. Cho and her husband Joe (Virginia), Diane Stanley and her husband Cleve (Florida), Tammy McKenzie and her husband Ronnie, Darlene Newman and her husband Jimmy, Maria Boarman and her husband Mark (Tennessee); her Aunt Nancy and Uncle Claude Johnson of Lebanon, Va; her close friends, Ellen Poulin, Debbie Gass, Roxanne Drake, Margaret Young, Connie Gray, Pat and Allen Yates and Debbie Tucker; Numerous cousins, nieces, nephews and friends.

A visitation will be held on Wednesday, June 17, 2020 from 11AM until time of service at 1PM at the Raymond Funeral Service, P.A., 5635 Washington Avenue, La Plata, Maryland 20646. In accordance with COVID-19 guidelines, masks are required, social distancing and limited amount of guests is still in place.

Interment to follow at Trinity Memorial Gardens in Waldorf, Maryland.