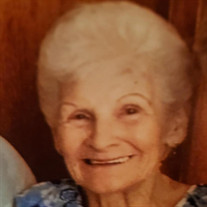 Alma Virginia Herbert, 88, died on June 13, 2020, at her residence in La Plata, Maryland.

Virginia was born August 31, 1931, in Washington, DC, to Robert and Mabel (Meyers) Brandenburg. She was one of three children. She was raised by her aunt Cyndy "Bootsie" Thompson.

Virginia married Charles Herbert and had two children. She was a military spouse/stay at home mother while her husband served in the Air Force for 22 years. They spent time stationed in Texas, Hawaii, New Hampshire, Alaska and Nevada. After his retirement, they lived in Prince George's County, Maryland. She spent countless hours volunteering and never knew a stranger. Virginia affectionately referred to everyone as "sweetheart".

Virginia was preceded in death by her loving husband, Charles Herbert Jr, and son James Herbert.
She is survived by her daughter, Cynthia Chamberlain; grandchildren James Walsh, Joseph Chamberlain, and Brandy (Tommy) Stickel; and two great grandchildren.

Arrangements are pending at Cheltenham Veteran's Cemetery.