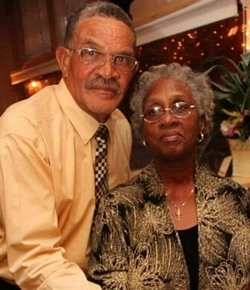 John Francis Briscoe, III, 80 of Mechanicsville, Md., departed this life on June 12, 2020 at Georgetown Hospital in Washington, DC. His loving and devoted wife of 57 years, Ann departed this earthly life on April 14, 2020. We now celebrate the Homegoing for both; just as they were united in life; we celebrate them united in death.

John's Journey

John was born on June 4, 1940 in Chaptico, Md. to the late John Francis Briscoe, II and Pauline Briscoe.

He was raised and lived in Chaptico, Md., was educated in the St. Mary's County Public School system, where he met and married the love of his life, Mary Ann Briscoe (Yorkshire). He was known by many nicknames, such as...Junior, Turkey, JB, Ugly, Fuzzy, Pop-Pop and some simply called him John Briscoe.

In his early years he worked as a Postal Carrier for the United States Postal Service. Later he pursued a career in construction, where he held various positions. To officially end his work career, his 70th birthday present to himself was retirement from Scheibel Construction.

He was a self-taught mechanic. You could call on him morning, noon or night and no matter the weather he never failed to respond. There weren't many things that he couldn't fix. He was a regular "McGuyver". He loved to be outside working around the house. In addition to his own, he spent many, many hours over the years mowing the lawns of family and friends on Harper's Corner Rd.

In his younger days, he liked to hit the highway on his motorcycle, and liked to play his guitar and sing. A pastime of his retirement was a daily run to Wawa to get a cup of coffee. He faithfully watched Morning Joe and the Reverend Al Sharpton on MSNBC. He enjoyed chatting with family and neighbors while sitting under a shade tree, and taking care of his dog, Candy.

John loved the Lord with all his heart and faithfully attended Immaculate Conception Church in Mechanicsville, Md. He was known to say "Stand back and let the Lord do his work." He had a servant's heart. He was always willing to lend a helping hand whenever there was an event and he was normally one of last to leave after cleaning up. He loved to talk to everyone. Whenever he met a stranger, you can bet by the end of the day he would know them.

His family was the most important thing in the world. He was always present at family activities. He never ended a conversation or phone call without saying "Tell everybody I said hi and I luv'em."

John was preceded in death by his wife and love of over 60 years, Mary "Ann" Briscoe; daughter, Angela Denise Briscoe; parents, John Briscoe and Pauline Briscoe; sister, Margaret Hebb, and brother, Hezekiah Briscoe.

He leaves to cherish sweet memories, his daughter, Beverly M. Briscoe; sons, Jonathan, William (Sandra), Kevin (Eleanor), and Terrance (Michelle) Briscoe; sister, Mary Briscoe; brothers, Francis, John, James, and Charles Briscoe, 12 grandchildren, 13 great grandchildren, nieces, nephews, and other extended family, Theresa "Tinnie" Jacobs, Bernice King, who went above and beyond in helping provide care for Dad during his final months, as well as niece and nephew, Jean King, and Anthony "Darnell" King (Joyce), whom he raised as his own and they also called him "Daddy."

John was a hero, role model, mentor and father figure to many people. He will be truly missed and his legacy will live on in those he touched.

Visitation will begin at 10:00 am and Mass of Christian Burial will follow at 11:30 am on Wednesday, June 24, 2020 at St. Aloysius Catholic Church, 22800 Washington St., Leonardtown, Md. 20650. Interment to follow at Queen of Peace Cemetery, Helen, Md.