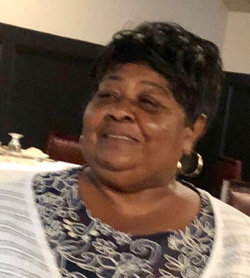 Jean Prestolla Dyson-King was born on March 5th, 1942 to her parents, the late Thomas R. Dyson and Catherine L. Dyson in Washington D.C. She relocated to Dyson Lane in Accokeek, Maryland in 1952. Jean received her education in Prince Georges County Public Schools. She accepted Christ as her Lord and Savior and was a faithful member of Metropolitan United Methodist Church in Indian Head, Maryland. On September 15, 1970 she married Edward "Sonny" King. From this union 3 children were born. On June 3rd, 2020, Jean transitioned from this life and gained her wings to be with the Lord.

Jean is genuinely loved and will be missed by her large family. She was proceeded in death by her parents, the late Thomas and Catherine Dyson, her brother, Thomas "Dickie" Dyson and her son, Delvon King. She leaves behind her brother, Leon "Butch" Dyson Sr; her children, Karla King, Corey King Sr. (Contessa) and her adopted son, Johnny Rossettos; her grandchildren, Tynise King, Brianna Clagett, Janaire King, Kyisha King, Corey King Jr., De'Quan Proctor and her adopted grandson, Kenny Reed; her great-grandchildren, Amariah Wallace, Delvon Wallace and Zyla Proctor; her daughter-in-law Keisha King; her sisters-in-law, Rebecca King, Joan Dyson, Sandra Dyson-Mullins, Mildred "Sue" Dyson, Linda Dyson, and Vera Chase (deceased); her nephews, Leon "Flip", Joseph "Butch", Jason, Eric, Darrell, Allan, Cornell, Cameron, Brandon, Larry and Corey (deceased); her nieces, Jenneetta "Neede", Charlene, Darlene, Dorene, Jackie, Sandy, Margaret, Catherine "LeeLee", Lyntoria, Sherry "Tisa" and Brandy; her special cousins, Ronald and Adrienne McKay; and her special riding partners, Martha Swailes "BeeBee", Mildred Gram and Joanie Cargill; and a host of great nieces, great nephews, cousins, family and friends.

Jean was an entrepreneur, providing childcare and cleaning services. Her huge heart, loving spirit and loyalty to her family allowed her to impact many people's lives, she was the neighborhood mom. Jean LOVED family, she enjoyed family events, celebrations, singing, listening to oldie but goodies, dancing, sewing, and serving the LORD! She opened her home for many enjoyable events known as the "mobile club" on Dyson Lane. Jean was a football fan; she loved the Dallas Cowboys. While watching the games with her family she would shout many of her famous cheers; "My team is read hot, your team ain't didily squat!" or "One bits, two bits, three bits a dollar, all for Dallas, stand up and holla!".

Jean always had a huge smile on her face and plenty of laughter to share. She was always there to brighten the lives of others. She enjoyed her long phone conversations, watching television and her daily bible studies. She will always be a phenomenal woman and a mother to all!

Friends may visit with the family from 10 a.m. until time of service, 11 a.m., Friday, June 12, 2020 in the Chapel of Thornton Funeral Home, P.A., 3439 Livingston Road Indian Head, Maryland 20640. Interment, Trinity Memorial Gardens, 3221 Mattawoman Beantown Road, Waldorf, Maryland 20601.