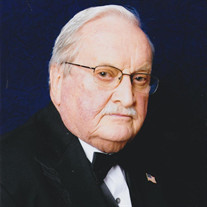 Dean R. Phelps, 89, of Waldorf, Maryland, formerly of Moreno Valley, California, passed away on June 3, 2020 at his home.

Born on April 25, 1931 in Montpelier, Idaho, he was the son of the late Clyde M. Phelps and Lillian Phelps. Dean served in the U. S. Air Force for over 30 years before retiring as a Chief Master Sergeant. He later worked for Northrup Gruman as a Weapons Instructor for 10 years. Dean was one of the Founding Members of the Moreno Valley CA Elks Lodge and has been a member for over 35 years.

In addition to his parents, he was preceded in death by his daughter Heidi A. Phelps; siblings Gay Dimick and Kyle Phelps.

Dean is survived by his wife Fawn W. Phelps; daughter Vicki L. Dunn and her husband Thomas P. Dunn; five grandchildren and nine great grandchildren.

Service and interment will be held at Arlington National Cemetery at a later date.

In lieu of flowers, memorial contributions may be made to the Dementia Society of America - PO Box 600 - Doylestown, PA 18901.