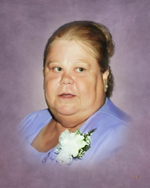 Mary Kathy Downs, "Sissy", 61, of Mechanicsville, MD passed away on June 9, 2020 at her residence. She was born on May 7, 1959 in Leonardtown, MD and was the daughter of the late Mary Emma Downs and Preston Joseph Downs.

Sissy is survived by her children April Gray of Lexington Park, MD and Ashley Gray of California, MD, grandchildren, Kayla Baird, Kasey Phipps, Leland Payne, Jayden Payne, Aubree Phipps, and Michael Gray. Siblings Ronald Downs (Sharon) of Mechanicsville, MD, Albert Lee Downs (Faye) of Mechanicsville, MD, Preston Downs (Joyce) of Mechanicsville, MD, Diane Derrick (Ronnie), of Westminister, SC, Emma Raley (Wayne) of Mechanicsville, MD, Jerry Downs (Katina) of Mechanicsville, MD, and Herman Downs (Cyndi), of Mechanicsville, MD.

She was a lifelong St. Mary's County, Maryland resident and graduated Chopticon High School in 1976. Sissy worked for B & B Imaging from 1987 until 1994, then Merkle Mailing from 1994 until 2003, she then went to work for St. Mary's Hospital from 2003 until 2014.

Sissy loved her family, and spending time with her grandchildren, and her best friend Vivian. She enjoyed picking and eating crabs, canning and playing cards (pitch and pass the trash) . Sissy also enjoyed playing horseshoes which she did for many years, she also played in many tournaments.

All Funeral Services will be private at this time.

Serving as pallbearers will be Brandon Long, Jason Derrick, Korey Downs, Robert Derrick, Kyle Downs, and Michael Raley

Contributions can be made to the Mechanicsville Volunteer Rescue Squad, PO Box 15, Mechanicsville, MD 20659 or to Hospice of St. Mary's, PO Box 625, Leonardtown, MD 20650.

Arrangements provided by the Mattingley-Gardiner Funeral Home, P.A. Leonardtown, MD.