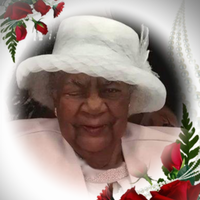 Edna Rowena Bolt Barnes was called home to be with the Lord at the age of 93 on June 8, 2020. She was born March 6, 1927 in Jarboesville, Maryland to George Henry "Temp" Toney and Elizabeth J. Garner, who both preceded her in death. She grew up in St. Mary's County where she had the love of a large community of family and friends. Edna would later marry Joseph Bolt, of Park Hall, Maryland. She had four children who preceded her in death, Edna, James (Jimmy), Joseph (Elwood), and William and four surviving daughters, Beverly, Betty, Yvonne, and Stephanie. Edna remained happily married to Joe until his death.

Edna was a saved, sanctified, praying woman, and she loved the Lord. She was a member and Mother of Park Hall True Holiness Church for over fifty years. She loved her church family! Her service was as long as her membership. She was one of God's servants. A Foster Parent, Day Care Provider, Senior Choir member, Missionary, Helping Hands, Willing Workers, and Deaconess. Edna was employed with the Office on Aging for many years. She will be missed.

Edna was very sociable and enjoyed her time at the Chancellor's Run Senior Center. That is where she met and married Jerome Barnes, who preceded her in death. They enjoyed a lovely life together until Jerome's passing. Anyone who knew Edna understood the best gift of all was a new hat. Oh how she loved her hats! Edna was a little height challenged, so when she sat down most of the time her feet would not reach the floor. When she thought there was a hat for her, her feet would swing as she sat in anticipation. Edna loved chicken and seafood. Her daughters were always making runs to pick up those favorite foods for her enjoyment.

Edna has 10 grandchildren and 25 great grandchildren and 3 great great grandchildren. She was preceded in death by 1 grandchild. She loved to talk about them all.

Edna was also preceded in death by her three sisters, Elizabeth Chase, Lillian Mason, and Hilda Jenkins. She leaves to mourn her daughters Beverly Bolt-King (Eric), Betty Nelson (James), Yvonne Bowman, Stephanie Young, her sister Helen Smith (Joe), and a host of grandchildren, great grandchildren, great great grandchildren, nieces, nephews, cousins, family and friends.

Family will receive friends on Saturday, June 13, 2020 from 10:00 a.m. to 11:00 a.m, with a private Funeral Service celebrated by Bishop Phillip Spence at 11:00 a.m., at Park Hall True Holiness Church, 47690 Park Hall Rd., Park Hall, MD. Interment will follow in the cemetery and all are welcome.

Memorial Contributions can be made to Park Hall True Holiness Church, 47690 Park Hall Rd., Park Hall, MD 20667.

Condolences to the family may be made at www.brinsfieldfuneral.com.