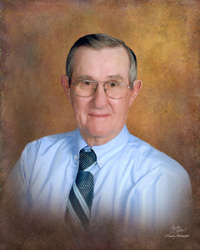 Chester David Bowling, 78, of Faulkner, MD entered into eternal rest on June 7, 2020. Born in Faulkner, MD on December 30, 1941, to the late Henry Bowling Sr. and Eleanor Bowling, Chester is also predeceased by his sisters Martha Clements and Virginia Ann Thompson. He is survived by his loving wife of 58 years Mary Frances Bowling; daughters, Bonnie Langley, Sandra Guy (Francis), and Jill Wathen (Thomas); son Chester Bowling, Jr. (Holly); sister Charlotte Lee Smith; brothers Henry and Clark Bowling. He is survived by 10 grandchildren; Rachael Bowles, Kari O'Brien, Lauren Grierson, Katie Langley, Brandy Guy, Eric Wathen, Jonathan Langley, Brian Wathen, Chester Bowling III, and Adam Bowling; and five great-grandchildren.

Chester, also known to some as "Tiny", graduated from La Plata High School in the class of 1959. He enjoyed playing baseball and in his last days held on third base and has finally made it home. Chester was a hard working tobacco farmer. After retiring from farming, he volunteered as the caretaker of his church for many years. He also enjoyed playing cards, checkers, hunting, planting his garden and loved spending time with his family and friends.

The family will receive friends for a public viewing on Thursday, June 11, 2020 from 9 AM to 11 AM at St. Mary's Newport Church, 11555 St Mary's Church Rd, Charlotte Hall, MD 20622

A PRIVATE Funeral Mass will be held at 11 AM followed by a PRIVATE Interment at St. Mary's Newport Church Cemetery. In accordance with Covid-19 guidelines, masks are required and social distancing is still in place. While the church is operating at half capacity, we ask that all visitors be mindful of others who might be waiting their turn for visitation.

Pallbearers and Honorary Pallbearers will be his 10 grandchildren.

In lieu of flowers, donations may be made to St. Mary's Newport Church, 11555 St Mary's Church Rd, Charlotte Hall, MD 20622 or Hospice of Charles County, 2505 Davis Road, Waldorf, Maryland 20603.