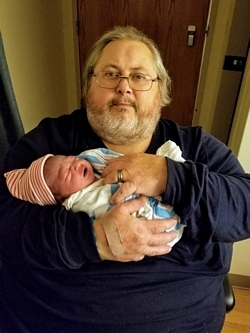 John Edward McDavid, 62, of St. Leonard, Maryland passed away June 6, 2020 at his home. John was born on February 16, 1958 in Greenville, Pennsylvania to Kathryn Sanford and the late Henry Clinton McDavid. He is also preceded in death by a sister, Diana Gonzalez.

John worked at Reagan National Airport, managing the shuttle buses. He was an Redskin fan, loved to deer hunt, talk to his friends and an avid Donald Trump supporter.

He is survived by his wife, Katherine Ann McDavid, daughters Catherine McDavid Jones and her husband Jermaine, and Ashley Ann McDavid. Grandfather of Camille Dunkley, he is also survived by his mother, Kathryn Sanford, brother David McDavid, sister Judy Turner and many other relatives..

A Memorial service will be held on Wednesday June 17, 2020, 11 AM at the Rausch Funeral Home, 4405 Broomes Island Road, Port Republic, Maryland. Interment is private.