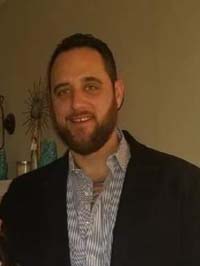 Robert "DeWayne" Butler, age 41, of Front Royal, Virginia

DeWayne, a most beloved son, husband, father (Papi), brother, uncle and grandson, passed suddenly on Monday, June 1, 2020 in Springfield, Virginia.

DeWayne was born on January 4, 1979 in Silver Spring, Maryland. He was loved dearly by his parents, Sandy and Paul Hoffman of Indian Head, Maryland.

DeWayne will be missed everyday by his parents, his wife Karina Ahlborn, and 2 children, a son Shaun and a daughter Samantha (Princess); a brother Greg (Lori) Hoffman; two sisters, Danielle Hoffman and Sarah (Theodore) Miseveth; four nephews, Jason Hoffman, Samuel, Gavriil and Desmond Miseveth; grandfather Billy Craft, and a large and loving extended family of aunts, uncles and cousins.

We are comforted to know that DeWayne has reunited with his Aunt Shirley Messineo and has once again found the arms of his adoring grandmother Barbara Craft.

DeWayne grew up in Indian Head, Maryland in a tightly-knit family that laughed and played together. His childhood was that of a typical boy, enjoying sledding with his family and friends in the winters, and camping often throughout the summers. He was happy, had a gentle teasing nature, and looked out for his two younger sisters.

DeWayne loved to swim and competed at a young age on a local swim team; something that he passed along to his own son, Shaun, also an avid swimmer.

The love between DeWayne and Karina began in 2008 in Centreville, Virginia. As it blossomed into dreams of forever, they married seven years later in 2015, committing their lives to each other.

DeWayne loved his family intensely, especially his children, Shaun and Samantha (whom he called Baby Monkey). And that love was reciprocated in equal measure by his family and friends.

DeWayne shared a love of the cosmos with his sister Sarah and his son Shaun. He pondered the vastness of space, loved anything that could fly, and enjoyed star-gazing. DeWayne could name the stars, all the constellations, and loved sharing all he knew with his children.

DeWayne was known to be loving and kind; someone who gave his heart willingly. It was said that you knew you were loved by and important to DeWayne when he hugged you. He didn't hide his feelings; he enjoyed spending time with those he loved; he had a great sense of humor, a hearty laugh, and a ready smile.

With great affection, DeWayne's wife spoke these words "He was my best friend. And though we were imperfect people, our love was perfect and we never gave up on each other."

And his daughter, Samantha, said she will miss "his smile", "the way he loves me", and "when he sang You Are My Sunshine" – something he sang to her every night.

There is no doubt that DeWayne touched the lives and hearts of those who knew him. His kind and loving nature will be what is most remembered about him. He cared about people in the purest way. bIt is a testament to his life that he remained (to the end), true to his heart, his very nature. He will be greatly missed.

A memorial service to celebrate DeWayne's life will be held on Saturday, June 13, 2020 at 11 AM at Potomac Heights Baptist Church in Indian Head, Maryland. Family and friends are invited to share in this celebration of life.