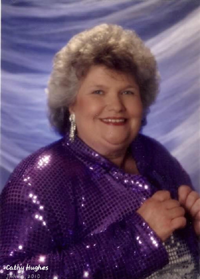 Catherine Mary Hughes, 79, of Bryans Road, Maryland, passed away peacefully May 28, 2020 due to multiple health problems. She was born February 28,1941 in Bronx, New York to Catherine Bollman and Michael Cappiello.

Catherine is preceded in death by her husband, Earl "Kenny" Hughes, in 2012 and her son Christopher Hughes in 2018. She is survived by her daughter Colleen and three loving grandchildren Zachary, Bethany, and Michele Dearing.

At nine years of age Catherine moved from New York to D.C. with her parents where she continued to live in the D.C. Maryland area for the remainder of her life. She attended Chamberlin Vocational High School where she graduated a year early in 1958 with a secretarial degree. During high school she worked as a Pharmacy Technician in D.C. She then worked at a jewelry store once she graduated. She married her high school sweetheart Earl Hughes in 1961. They had two beautiful and loving children, Christopher in 1963 then Colleen in 1965. Her final job was as a secretary at R.G. Moody in Bryans Road.

Catherine was, and upon death, still is a devoted Catholic and attended Church at St. Mary's Star of the Sea in Indian Head, MD. She had a voice and loved to sing so she joined the gospel choir at her church in the 1980's and was a member for many years as well as singing as a member of the Women's Chamber Choir for the College of Southern Maryland. She loved all animals from the wild squirrels and birds she fed outside to her beloved pets. She had multiple Irish Setters who won several championships and awards. She spent her later years being a housewife, helping take care of her grandchildren who she spoiled and loved dearly.

In lieu of flowers, memorial donations can be sent to Rescue Angles of Southern Maryland (P.O. Box 51, White Plains MD 20695) www.rescrangessomd.com.