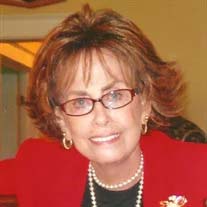 Phyllis Irene Gallahan Kerns of White Plains, MD, passed away on Tuesday, May 26, 2020, at the age of 77.

She was born December 13, 1942 to Dewitt Franklin and Lucille Gallahan of Neersville, VA. Just weeks prior to delivery, the proud parents learned they were having twins! Phyllis adored her twin brother, Frank; however, proudly proclaimed to be the oldest, if only, by minutes.

Proud father Dewitt was serving as a surgical technician in the Pacific Theater, World War II. Upon receiving the good news of the pending births, he was issued a two week pass to travel home and be with his new family. It was three years later, with an honorable discharge from the Army, Dewitt returned home again, this time to devote fully to his family. During these three years, the twins, Phyllis and Frank Jr., enjoyed special times with their maternal grandparents, George and Daisy Cogle, also of Neersville. Granddaddy Cogle was partial to his little granddaughter, Phyllis, while Frank Jr. captured Grandma Cogle's heart; both were spoiled! That's what grandparents do!!

Twin brother, Frank Jr. passed away at the age of 48 with heart disease. Phyllis could no longer share good times with her twin brother. There were, however, four more siblings she loved deeply.

Phyllis worked for the Prince George's County Board of Education for 35 years and retired June 30, 2008. She shared many fond memories of her early career working as the principal's secretary. Those memories included meaningful time spent with students, as well as taking especially "good care" of her teachers at Forestville High School. Later, she accepted a position in the regional office serving the Assistant Superintendent and Regional Director. It was during this time, her beloved husband, Bill, succumbed to pancreatic cancer. With the support of her family and friends, Phyllis worked an additional five years. In August 2010, she relocated to Southern Maryland and settled into her new home in Heritage at St. Charles, a 55+ residential community.

Phyllis enjoyed her retirement years traveling with Southern Maryland seniors to Canada, New York, Pennsylvania, North and South Carolina, Georgia and Tennessee. In between these trips, she especially enjoyed sending time with her oldest granddaughter, Ashley, in Philadelphia, and second oldest grandson, Andrew in Colorado.

Phyllis loved to spoil her 11 grandchildren which included two sets of twins; Matthew & Jason, and Rebecca & Hannah. To her delight, the grandchildren enjoyed spending time with Nana Kerns too! Family gatherings were great fun, especially Christmas Eve, which she hosted each year, a tradition she and Bill started early on. Later, siblings Don, Lloyd, Wes and Jeff organized annual family picnics to shared great food, recall fond memories, all the while feeling blessed to be part of a large family growing up.

Phyllis found comfort and joy each week spending time with her spiritual sisters during Book Club. She learned studying her Bible, along with her friends, brought meaningful purpose to her life. Her favorite daily devotional, "Jesus Calling", spoke to exactly what was "on my heart today". She often asked, "How could the author, Sarah Young, write each day's daily devotional especially for me?

Phyllis was the beloved wife of the late William G. Kerns; loving mother of David G. Kerns and his wife Linda Work of Huntingtown, MD, Steven G. Kerns of Chesapeake Beach, MD and William Gregory Kerns and his wife Terry of Mechanicsville, MD. She was the dear sister of Donald Gallahan and husband Stuart Tart of Rockville, MD, Lloyd Gallahan and his wife Lucille of Virginia, Wesley Gallahan of Virginia, Jeffrey Gallahan and his wife Valerie of West Virginia, and the late Frank Gallahan, Jr., Fred Gallahan and Debbie Gallahan. "Nana" was the devoted grandmother of 11 grandchildren and nine great-grandchildren.

A visitation will be held at Lee Funeral Home Calvert, 8200 Jennifer Lane, Owings, MD 20736, on Tuesday, June 2 from 10 am until start of Funeral Services at 11 am. Interment will be at Resurrection Cemetery.

For those desiring, memorial contributions in memory of Phyllis, may be directed to the American Cancer Society, P. O. Box 22478, Oklahoma City, OK 73123.


NEW GUIDELINES FOR ATTENDING VISITATION / SERVICES.
- 50 to 75 people max at any given time in Funeral Home.
- Limit visitation to 15 minutes in visitation room to allow for others to express their condolences.
- Funeral Services in Chapel limited to 70 people with four (4) people per pew.
- Masks and six foot social distancing still applies.