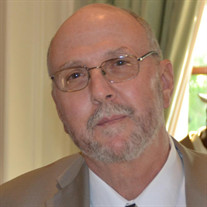 On Thursday, May 21, 2020, Mario Francis Teresi, age 70, passed peacefully after a short battle against an aggressive illness at George Washington University Hospital.

He leaves behind his wife of 16 years Etta May Teresi, his stepdaughter Sharon Kennedy-Dews and husband Gary Dews, stepsons Christopher and Andrew Kennedy and wife Tine Kennedy, his step-grandchildren Angelique, Rebecca, Benjamin. Jadon and Annika. He is also survived by his sister Linda Price and brother in-law Larry Price, nieces Regina Buckler and Kristine Ferrall, nephew Josh Price, grandnieces Shelby, Charly and Lyla, grandnephews Jeffrey, Dylan, Jacob, and Brody and great grandnephews Cohen and Parker. In addition to his parents, he was predeceased by his nephew John Reinburg.

Mario was born in Washington DC, to the late Michael and Frances Teresi. He attended Anacostia High School in Washington DC. He studied at Lincoln Technical College to obtain a certificate in heating, ventilation, and air conditioning (commonly referred to as HVAC). He prided himself in being diligent and honest in his work.
Mario, or Marty as he was best known to us, was a warm, kind-hearted, mild-mannered, loving man with a generous spirit and a fine sense of humor. He was dependable and always happy to help the people in his life and would always go the extra mile on their behalf. He was a member at Trinity Baptist Church for the past 18 years and had a strong faith in the Lord. He enjoyed Sunday School and fellowship with the senior church members.
His passing was a shock to us all and his genuine, friendly, and humorous personality will be sadly missed by all who knew him.
A visitation will be held on Monday, June 1, 2020 from 4PM to 7PM at the Trinity Baptist Church, 2671 Mattawoman-Beantown Road, Waldorf, Maryland 20601 where a Funeral Service will be held on Tuesday, June 2, 2020 at 11AM. Face covering, social distancing, along with limited persons in the facility will be strictly adhered to.
Due to cemetery restrictions interment will be private.
Memorial contributions may be made to the Trinity Baptist Church, 2671 Mattawoman-Beantown Road, Waldorf, Maryland 20601.