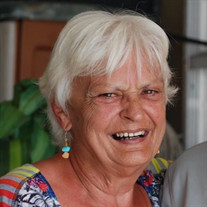 Patricia Hanson formerly of Port Tobacco, MD passed away in Naples, Florida on May 19, 2020 from Cancer.

She was born December 28, 1944 in Lexington Park, MD. Patricia was a staple figure as a Librarian with the Charles County Public Library until her retirement in early 2000s.
Patricia had a fierce love for her family, but most of all for her children. She was a loyal friend to many and a wonderful neighbor. She was often the life of the party, never meeting a stranger. She was an avid gardener and made it seem effortless. Her passing will leave a gaping hole in all we do.

She was preceded in death by parents Author Gray and Carolyn Gray; husband of 30 years, William "Squeaky" Hanson who we are sure met with open arms and a big smile.

Patricia is survived by her two sisters, Carol Johnson, and Malinda Gray; her daughter Kris Zaccarelli and husband Dominic; son, Jym Gullett and wife Carey; her grandchildren and great grandchildren that she loved so much: Carolyn, Tony, Rachel, Isabelle, James, Naomi, Riley, and Michael.

A private service and interment at Trinity Memorial Gardens in Waldorf will be held due to the circumstances of the COVID-19 Pandemic. We are heartbroken we cannot immediately celebrate her life with the people who love her, but we plan to do so as soon as possible.