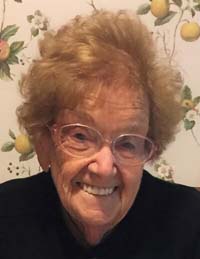 Jeanne Marie Heather, 90, of Lexington Park passed away due to natural causes on Sunday, May 17, 2020 at the Solomon's Island Nursing Center, MD.

She was born in 1930 to the late Henry St. Pierre and Wilhelmina "Mini" Racz in North Albany, New York. Her childhood was in the post World War I to World War II era. She lived through the Great Depression. She enjoyed music from the crank viola to the electric record player. She did synchronized swimming (like Esther Williams), dance, and figure ice and roller skating. She spent her summers at "camp", a rustic building (no running water, no heating, and no insulation) at Halfmoon on the Mohawk River and then later at a new location on a hill over-looking Snyders Lake in near-by Rensselaer County across the Hudson River from Albany County. She graduated from a Catholic high school and then got a certificate in Nursing from St. Peters Hospital in Albany.

In 1952, Jeanne married her beloved husband, Jack Frederick Heather in Albany, New York. He was a World War II Army veteran and recent graduate of Plattsburgh State University with a degree in Education. They moved into a rental house in Islip Long Island, New York. to be near Jack's parents, who were the caretakers for St. Michaels Cemetery near La Guardia Airport, Queens, NY. Jack got an elementary grade teaching position and Jeanne got a nursing job at a near-by hospital. They started their family in 1953 and she exchanged her public nursing career to be a mother (and family nurse). Five years later they bought a house in Seaford, Long Island, New York. The family was two sons and one daughter and one more on the way. A dormer was added to the house and the family grew to 4 children with another son. By 1960 Jack's parents had passed, and soon after Jack was diagnosed with Parkinson's Disease, after an operation for a ruptured appendix. In the spring of 1961, they moved back to North Albany, New York to be close to her parents. They ended up living in the Snyders Lake "Camp" she had spent her summers in as a child. The area had become a bedroom community for the Albany-Schenectady-Troy tri-city area. A year later after rustic living in the harsh upstate weather she bought a neighboring camp. She added water, sewer, heating and insulation to provide a more suitable home for her family. During this time Jack's health had degraded to the point that he was unable to help. Her summers were spent with teaching swimming lessons with the Red Cross at all the five local lakes. Her winters were spent with the Cub Scouts, Girl Scouts, Church Choir, and doing crafts with "Home Bureau". She loved her home on top of the hill overlooking Snyder's Lake in New York.

She guided her family through high school and out to higher education. She saw three of her children get married. Finally, all the children, but one had left home and were out on their own, Jack was in a nursing home and she was back to working as a nurse. She had kept her nursing license paid for all those years as a mom! But she grew tired of the winters, she came to visit her eldest son in St. Mary's County, Maryland and ended up staying to live near him in the summer of 1982. She had moved just in time to enjoy helping to care for her grandchildren.

In St Mary's County, her artistic talents flourished. She could paint original scenes in oils and watercolor, create cross-stitch and embroidery designs, and sew (even had sewn her own wedding gown). She taught painting for the county Office on Aging. She enjoyed, bowling, playing cards, and line dancing. She was very active at St. George's Catholic Church in Valley Lee, MD as principal of the Youth Faith Formation Program for many years and as a member of the choir as well as a cantor for Mass. She took piano lesson, was in a gospel choir and a member of ENCOR choir.

She was a dedicated nurse for over fifty years. She was the group nurse on numerous travel vacations sponsored by the County Office on Aging. In her later years, she specialized in geriatric care getting herself a BS degree. She also did hypnotism. Even after her retirement, she continued teaching nurse's aides part time. She worked part time at Harry Lundeberg School of Seamanship as their nurse.

Jeanne is survived by her two sons and one daughter, one grandson and one granddaughter and two great grandsons and one great granddaughter and extended family and friends. In addition to her parents, she was preceded in death by her brother and her youngest son.

A meditation visitation at Immaculate Heart of Mary Church, 22375 Three Notch Rd, Lexington Park, MD 20653 will be held on May 29th from 2 to 3 PM and Mass from 3 to 4 PM that can be attended virtually by Zoom, please email your request to virtually attend the Mass to fred@pjma.info.

Condolences to the family may be made at www.brinsfieldfuneral.com or virtually after the Mass by Zoom. Please email your request to virtually attend after the Mass (5 to 8 PM) for condolences to fred@pjma.info.

The family is accepting donations for potted flowers and plants to decorate the church for the Mass and to be left in the church for June church services. Please email fred@pjma.info to get details on how to make a donation in Jeanne Heather's name .

Arrangements by the Brinsfield Funeral Home, P.A.