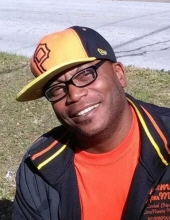 Our beloved Martin Donald Willett passed at his home on Tuesday May 12, 2020 in Sanford, Florida.

Martin Donald Willett, son of the late Donald Willett and Carolee Shaifer, born on April 16, 1968 in Prince Frederick, Maryland. Martin attended Calvert County Public School, upon moving to La Plata, Maryland Martin then graduated from McDonough High School.

Martin gave his life to Christ at the age of 17. He was baptized and filled with the Holy Ghost. Martin continued praising God at the Word of Faith Church, Pastor Harlen Walker in Sanford, Florida.

After graduating from high school, Martin started working as a labor in construction, as well as detailing cars with his stepdad (Carl.) In 2015 Martin decided to go back to school for culinary arts. He attended Le Cordon Bleu College of Culinary Arts in Orlando, Florida.

After completing school, Martin became the head chef at Mayfair Country Club.

Martin is survived by his mother Carolee Veronica Shaifer; stepfather Carl Shaifer; son Joshwan Willett; brother Donald Christopher Willett; two aunts Joyce Gantt and Darlene Brown; five uncles James, Joseph (Doretha), Emmett and Darryl Gantt; David Willett; seven great aunts, Ruth Reynolds; Theresa Miles; Helen Commodore; Edith Commodore; Margaret Chase; Vivian Summerville and Marcelias Ingmeam; one niece Dominique Cherese Willett, one great-niece Allyssa Willett, and a special devoted girlfriend Becci Holiday and a host of relatives and friends.