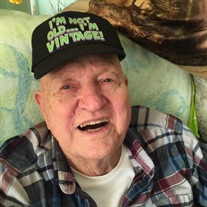 Reese Porter Helmer, Jr., 90, passed peacefully at home in Port Tobacco, MD, his home for 47 years, Monday, May 18, 2020.

He leaves behind his wife of 67 years, Helen (Wright) Helmer, formerly of Hattiesburg, MS, his daughters, Mary Helen (John) Burris, Cathie (Richard) Guimond, Angela (Dave) Russell, grandson, Jason Davis, and sister, Mary Elizabeth Feldman.

Born and raised in Hattiesburg, Mississippi, Reese graduated with his father, from Mississippi Southern College (Phi Kappa Tau). He then proudly served in the U.S. Army during the Korean War, before beginning his 25-year career with the U.S. Census Bureau. Reese, along with his wife, enjoyed many years of being a licensed ham radio operator. He will be fondly remembered by family and friends as a loving husband, father and grandfather.

A private family service will be held June 5th at Cheltenham Veterans Cemetery.

In lieu of flowers, donations will gladly be accepted to fight Alzheimer's Disease at Alzheimer's Association, https://act.alz.org/site/Donation2.