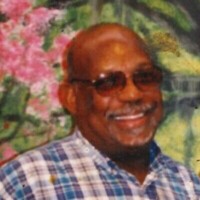 James, known as "Pop" to many, was born August 13, 1937 to the late Louise and Joseph K. Rosier in LaPlata, Maryland.

At an early age, James was baptized into the Catholic faith. James grew up attending Charles County public schools until he followed his older brother "Henry's" footsteps by joining the United States Army. After departing the Army he returned home and met the love of his life Shirley "Momma" Jones, and they had three children together Cynthia "Cindy", Cheryl "Lisa," and James "Jimmy." James and Shirley married on October 22, 1960.

James became a faithful member of Sacred Heart Catholic Church where his faith led him to serving for the sick and elderly by performing weekly visits with prayer and serving holy Eucharist. He later became an honorary life member with The Knights of Columbus serving for 37 years.

James started his career in the 1960's working with AT&T in telecommunications. During that time, he also performed television and radio repairs for family and friends as a side job. In 1965, he became the owner of Rosier Bus Co. where he started off driving a station wagon dropping kids off at F.B. Gwynn Center located on Bumpy Oak Road, where his wife, Shirley worked as a school teacher. Later he became the owner of six school buses working as a contractor for 51 years with Charles County Public Schools. During this time, he became President of the Charles County School Bus Association. Through out his tenure he helped numerous contractors with their school bus businesses. He also loved working his part time job at T&J's bar-b-que with his life-long friend and buddy "Vincent Jameson" and Mr. Thornton.

James "Pop" was well known for his passion of traveling with his brother (Henry/Violet) and his sister (Mary/Theodore) any and everywhere. He also loved to travel with his family to Dover, Delaware and Myrtle Beach, South Carolina. Pop was well known for his "neighborhood soda machine" serving the community and his loud distinctive voice where he would let you know exactly how he felt! He was the neighborhood "Pop" to many and well respected by everyone. He loved to spray everyone down with his bug spray, even if you didn't want to get sprayed. Pop was an avid Redskin fan and Rosecroft Race track fan, where the horses ran and he and his Buddy, Vincent would hang out every Sunday.

Pop also enjoyed the company of his special sons Dewayne "Toot" Gray, Mike Proctor, and Gordon Newman, his special daughters, Joy Sheff and Tessa Kelton. He also enjoyed the company of his special grand kids Justin Waters, Damien Brown, Adam Lawson, and Felicia Lewis, his godson Floyd Rosier, and his niece, Debbie Thomas (Calvin).

In addition to his parents, Joseph and Louise Rosier, he is preceded in death by his wife Shirley and their daughter Cheryl Rosier-Gray, and siblings William, Robert, Leroy, Richard, Henry, Dorothy, Mary, and Madeline.

Left to cherish his memory are his two children, Cynthia Rosier-Johnson and James Rosier (Teresa); 14 grandchildren, Antwan Rosier, Nikki King, James L. Rosier, 3rd (Tarsheona), Rydricka Rosier, Delandre "Dre" Rosier, James "Trey" Gray (Kylie), Delonte "Tez" Gray, Jamal "Booka" Rosier, Tyricka "Ty" Rosier-Barrett, Tyreik Milstead, JaVon Rosier, Monya Rosier, Jayla Rosier, Jalynn "Pooka" Rosier, 29 great grandchildren, siblings(brothers) Bernard, Steven, Raymond Rosier and his sister Emma Yates and a host of family and friends.

His viewing will be held 8:30am until time of Mass 10:00am, Saturday, May 16, 2020, Sacred Heart Catholic Church, 201 St. Mary's Avenue, LaPlata, Maryland. Interment Church Cemetery.

DUE TO THE RESTRICTIONS IMPOSED BY THE COVID 19, THE MASS IS LIMITED TO THE IMMEDIATE FAMILY ONLY.