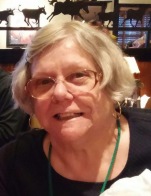 Anna Marie Quade, 78, of Leonardtown, MD passed away on May 6, 2020. She was born on April 16, 1942, in Leonardtown, MD and was the daughter of the late Joseph Stanley and Ethel Florine Wright Williams. Anna Marie was married to Stephen "Bernie" Quade, Sr in Immaculate Conception Church located in Mechanicsville, MD on July 11, 1959. Bernie passed on September 7, 2018.

Children: Steve (Lisa) Quade of Valley Lee, MD, Tim (Laurie) Quade of Dameron, MD, Tony (Bonnie) Quade of Abell, MD, Dana (Tracy) Quade of Mechanicsville, MD and Corey (Tammy) Quade of Mechanicsville, MD.

Grandchildren: Bryan McWilliams, Jamie, TJ, Jonathon, Andrew, Anthony, Matthew, Nicolas, Stephen, Haley and Emily Quade.

Great Grandchildren: Layla Ratliff, Mackenzie Harding, Jamie, Wesley, Emma, Charlie, Hank, Logan, Brooklynn, Brett, Spencer & Haven Quade.
Siblings: Doris Heard of Florida, Leroy (Margaret) Williams of Bushwood, MD, Helen Bowling of LaPlata, MD, Faye Gatton of Leonardtown, MD, Nancy (Alvin) Kraugh of Heathsville, VA and sister-in-laws Eleanor Williams of Hughesville, MD, Linda Williams of Loveville, MD, MaryAnn Williams of Avenue, MD. In addition to her parents she was preceded in death by her siblings, James, Raymond, Stanley Williams and brothers-in-laws John Heard, Buddy Bowling and Jimmy Gatton.

She was a lifelong resident of St. Mary's County, MD. Worked for the County Schools as a bus driver before starting work for St. Mary's Hospital in Leonardtown, MD for 26 years before retiring in 2007.
Anna Marie was an avid fan of the Washington Redskins and the Washington Nationals. She absolutely LOVED spending time with her family and friends camping, travelling to Williamsburg with her sisters and enjoying the Williams family Christmas parties every year.

All Funeral Services will be private at this time. Pallbearers will be Jamie, Anthony, Jonathon, Matthew, T.J. & Nicolas Quade. Honorary Pallbearers will be Steven, Andrew, Haley & Emily Quade.