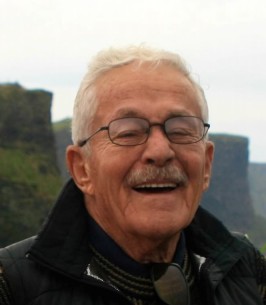 Sanford "Dick" Brooks, 93, of Leonardtown, MD passed away at St. Mary's Hospice on May 8th, 2020, of natural causes. He was born on March 13, 1927, in Washington, D.C. and was the son of the late Sanford Erman Brooks, Sr. and the late Lilly Sparshott Brooks and brother of the late Erma Brooks Henry. Sanford is survived by his wife, Mary Newheiser Brooks; son, Sanford Erman Brooks, III (Joan) of Mechanicsville, MD; son, Patrick Cullen Brooks of Hollywood, MD; son, Frank Edward Brooks (Debbie) of Mechanicsville, MD; daughter, Anne Brooks Quinn (Daniel) of Silver Spring, MD; daughter, Claire Brooks (Kent Buckham) of Hughesville, MD; and daughter, Ellen Brooks Marra (Dennis) of Mechanicsville, MD. Fourteen grandchildren and fourteen great-grandchildren also survive him.

Sanford attended Woodrow Wilson High School, graduating in 1945. He then served in the U.S. Army in Europe for two years and received an honorable discharge in February 1947. He began working for Pepco in May 1948. On October 16, 1948, he married the love of his life, Mary Elizabeth Newheiser, also of Washington, D.C. Together they had six children; first three boys, then three girls; and enjoyed over 71 years of marriage.

Initially, Sanford worked as an operator for Pepco at Benning Generating Station in Washington, D.C. In 1964, he was promoted to Shift Supervisor for the start up of the Chalk Point generating station in Aquasco, MD, and the family moved from College Park, MD, to Waldorf, MD. He was later promoted to Plant Manager and served at Buzzard Point, Chalk Point, and Morgantown generating stations. He retired in 1989 as Pepco's Manager of Production Operations in Washington, D.C. He enjoyed his 41-year career with Pepco and often returned for annual staff picnics.

In 1995, Sanford and Mary moved to Leonardtown, MD, where they were both active in the Republican Party of Southern Maryland. In 2001, he received the Man of the Year award for his dedication to the organization. For many years, he served as Treasurer of the Knights of Columbus at St. Francis Xavier Parish. He continued to stay active in his community by cutting grass at St. Francis and often volunteered to help with church functions.

When he wasn't working at Pepco, volunteering, or working in his yard, Sanford loved the water and enjoyed fishing, swimming, sailing, boating, and spending time with his many children, grandchildren, and great-grandchildren.

As an expression of sympathy, the family has designated Hospice of St. Mary's, P.O. Box 625, Leonardtown MD 20650 or the Alzheimer's Association for memorial contributions.