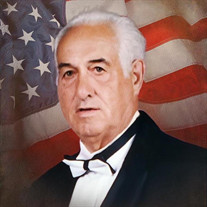 Michael Fanase, age 91 of La Plata, Maryland, died May 6, 2020.

Michael served in the United States Air Force and World War II. After serving in the military, he was a manager and butcher at Jay's Frosted Foods in Washington, DC for 37 years. He loved people and his family, especially is wife, Lorraine, as they celebrated 68 years of marriage. He also loved horseracing and had several horses that he raced. He was from a family of seven brothers and sisters and parents that came from Italy to the United States and made a life for themselves and their children.

He was the son of Michael Fanase and Marie Subatasse Fanase. In addition to his parents, he was also predeceased by his wife, Lorraine P Fanase.

He is survived by his daughters, Linda Meliani (Mustapha) and Tammy Semega and his grandchildren, Jessica Semega, Nudia Meliani, and Kenz Meliani.

Funeral services will be private.