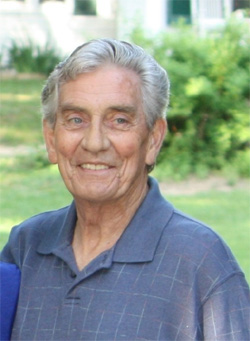 Thomas Patrick Turner Sr., 77, of La Plata, passed away on Sunday, April 26, 2020.

Born March 18, 1943, he was the son of Ruth Turner and Frederick Filmore Turner, Sr. "Pat" grew up in Indian Head "back in the old days" as one of nine children in a large, close family. He graduated from Lackey High School and later married his high school sweetheart, Sandie, his best friend and his wife of 55 years.

In addition to receiving a degree from Charles County Community College, he served in the United States Army as a military policeman from 1966 to 1968. After leaving the service, he went on to a career as a supervisor program analyst for the Naval Sea Logistics Center in Indian Head.

More than anything, Pat lived to spend time with his family. He shared an unbreakable bond with his three brothers and five sisters, not to mention dozens of nieces, nephews and cousins. During holiday gatherings at his home or at his beloved family farm in Bryantown, he was always quick with a smile, a joke or a priceless story about family history.

Pat and Sandie raised two sons he would do anything for, a fact he proved time and again. He coached their teams in baseball and other sports, teaching them about hard work, teamwork and life. Along the way, he became a coach and mentor for countless other children who will never forget the times they spent with him on a ballfield.

His daughter-in-law Beth became the daughter he never had, and his eyes beamed when he looked at her. When his granddaughter and grandson were born, his heart was full, and he loved nothing more than playing with them, joking with them and helping them discover a little mischief.

He is survived by his wife, Sandie; son Tom Turner and Missy Popielarchek; son Derek Turner, daughter-in-law Beth and grandchildren Ruby and Luke; brother Billy Turner and sister-in-law Dena; sister Betty Greer; brother Bennie Turner and sister-in-law Linda; sister Kay Rison and brother-in-law William; sister Barbara Bowie; sister Judy Arata and brother-in-law George; sister Nancy Porada and brother-in-law Don; sister-in-law Brenda Turner; sister-in-law Andie Corby and brother-in-law Jim; and father-in-law Chet Bright.

In addition to his parents, he was preceded in death by his brother Filmore Turner; brother-in-law Bob Greer; step-father Ray Rawlett; mother-in-law Hazel Bright; father-in-law Henry Drogowski; and sister-in-law Terri Abramo.

In lieu of flowers, memorial contributions may be made to the charity of your choice or to the Ruesch Center for the Cure of Gastrointestinal Cancers, Office of Development, 3300 Whitehaven Street NW, Suite 4000, Washington, D.C., 20007, or online at ruesch.georgetown.edu/gift.

A private funeral service and burial will be held for the family. A celebration of life will be scheduled at a later date.