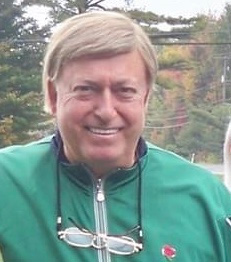 Dominic Anthony Di Iorio, 70, of North Beach, Maryland, passed away Sunday, May 3, 2020 at Anne Arundel Medical Center. Dominic was born on July 24, 1949 in Campo Di Giove, Abruzzi, Italy the son of Raffaele Di Iorio and Silvia Di Tana. Dominic voyaged to the United States aboard the SS Andrea Doria in 1954, and arrived at his new home in Westfield, NJ. He was a champion soccer player at Westfield High School, and after graduating went on to earn his Associate of Applied Science degree at Union County College. He also served in the National Guard from 1970 to 1978, and was employed with the Pitney Bowes company as a copier service technician for 21 years, retiring in 1993. He married Ellen Di Maggio on October 13, 1973, and they continued to reside in Westfield, NJ, until August of 2014 when they moved to North Beach, Md. Dominic was a member of Holy Trinity Roman Catholic Church in Westfield, NJ, St. Anthony's Catholic Church in North Beach, the Knights of Columbus Calvert Council 7870, and the American Legion Stallings-Williams Post 206. Dominic will be remembered as a friendly and caring man who greatly treasured family traditions and his Italian heritage.

Dominic is survived by his wife Ellen Di Maggio Di Iorio of North Beach, sons Jason Di Iorio of Clark, NJ, and Jonathan Di Iorio and his wife Megan of Prince Frederick, Md. and grandchildren Wesley, Hunter, and Molly Di Iorio. He is also survived by brother Adelfio Di Iorio and his wife Anna, sister Anita Russo and her husband Mario, and cousins Leo and Victor Villani, all of Westfield, NJ, as well as many nieces and nephews.

In lieu of flowers, memorial contributions in Dominic's name may be made to the American Legion Stallings Williams Post 206 or the Knights of Columbus Calvert Council 7870 at the address and links below.

Due to the COVID-19 restrictions all services will be private. We will be live streaming the service on the Rausch Funeral Home Facebook page at 3:00 PM on Thursday, May 7.