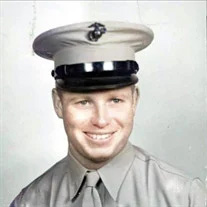 Delbert A. Arnold, 78, of White Plains, Md. passed away on Thursday, April 30, 2020. Del was the beloved husband and father to his wife Patricia and their four children; Shelvy, Daniel, Patricia, and Paula. He was a loving grandfather and great grandfather. In his earlier years, Del served honorably as a United States Marine in Vietnam. After leaving the Marines, Del worked for PEPCO before starting his own company which was later taken on by his son Daniel Arnold. Outside of his love for the Marines, Del had many other interests. He had a love for farming, specifically, raising cattle. He also enjoyed hunting and fishing. Most of all he loved spending time with his family. Family was the most important thing to Del. For those that knew Del, they would all say that he was an overall good hearted and honest man, who was loved by everyone. He will be deeply missed by his loving family and friends.

Del is survived by his wife Patricia Arnold, four children, Shelvy (Rick) Crupi, Daniel A. Arnold, Patricia (Robert) Halbleib, Paula (Rob) Ricca; his grandchildren Heather A. Murphy, Patrick L. Hurley Jr., Daniel A. Arnold JR., Jessica A. Thomas, Katie A. Arnold, Brianna Arnold, Lexi Halbleib, Austin Halbleib, Jacob Ricca, Noah Ricca, Joshua Ricca; great grandchildren, Amelia A. Murphy, Ryan Arnold; and his siblings Bill, Bonnie, Connie, and Annie, as well as a host of other loving family members. Del was preceded in death by his parents Howard and Hazel Arnold; siblings Robert "Bob", Sharon; and three grandchildren, Taylor Halbleib, Robert Ricca III, and Noelle Ricca.

A public service and memorial will be held at a later date set by the family.