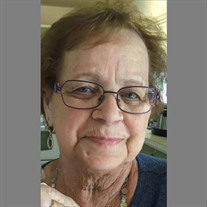 Margaret Eleanor Rollins, age 77, of Nanjemoy, Md., formerly of Waldorf, Md., passed away peacefully April 23, 2020 due to complications from surgery.

She was born September 9, 1942 in St. Mary's, Md. to Edward and Eleanor Strobel. She was a life long resident of Charles County. Margaret worked hard all her life from body shops to insurance and until retiring in 2015 from Southern Maryland Hospital. Margaret, together with her husband Johnny, raised 7 children. Margaret loved to dance and shop. She enjoyed fishing and family gatherings and was known by everyone for her famous potato salad. She adored her grandchildren and great-grandchildren, who will miss her dearly.

In addition to her parents, and stepmother Mary, she is preceded in death by her daughter, Sherry Hall; sister, Barbara Gray; brothers, Mark, Joseph, Philip and Glen Strobel; and stepbrother, Courtney Good.

She is survived by her children, Debbie Carroll and her husband Tommy of Hughesville, Md., Mark Rollins and his wife Kelley of Nanjemoy, Md., Lisa Swick and her husband Danny of Waldorf, Md., Pam Butler and her husband Shawn of La Plata, Md., John Glen Rollins of Nanjemoy, Md., Joseph Rollins and his wife Dana of La Plata, Md.; 14 grandchildren; and 13 great-grandchildren, with 1 on the way. She is also survived by Johnny Rollins; sisters, Gloria Moody, Rose Marie Goldsmith, Ruth Romestan and Mary Helen Moody; brother, Steven Strobel; stepbrothers, Willie, Raymond, Richard and Ralph Good; as well as numerous nieces and nephews.

Due to restrictions at this time, a life celebration will be held at a later date.