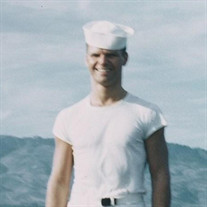 Bernard John "Bernie" Waclawski, age 87, passed away on April 30, 2020 at Hospice House in Charles County.

Bernie was born on June 24, 1932 in Dickson City, PA, a small mining town. After high school, he enlisted in the United States Navy, serving his country on two different aircraft carriers during the Korean Conflict. He subsequently attended college and graduate school, obtaining his Master's Degree in Physics from Penn State University, Phi Beta Kappa. While at Penn State, Bernie met and married his sweetheart, Cecily Quayle Waclawski. They moved to the D.C. Metro area, where Bernie worked as a Physicist at the National Institute of Standards and Technology for nearly 30 years. His work focused on low-energy particle physics.

After residing more than 40 years in Rockville, Md., Bernie moved to La Plata, Md., where he lived for the past 11 years. He greatly enjoyed math, physics, reading, and crossword puzzles, and he could frequently be seen walking around town as long as his health allowed.

Bernie and Cecily raised one daughter, Debra. Bernie's number one goal in life was to protect and provide for his wife and his daughter.

In addition to his parents, Bernie was preceded in death by his wife, Cecily Quayle Waclawski.

He is survived by his daughter, Debra Lynn Jones, and her husband, Steve, of Port Tobacco, Md.

In light of current circumstances, interment will be private and take place at a later date at Arlington National Cemetery, with U.S. Navy Honors, where Bernie will be laid to rest with his late wife, Cecily.

In lieu of flowers, memorial contributions in Bernie's memory may be made to The Salvation Army or Hospice of Charles County, 2025 Davis Road, Waldorf, Md.