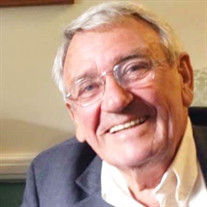 Peter Allen Weddell, Sr., born May 24, 1939 in New Castle, England, passed away at home surrounded by his family on Tuesday, April 28, 2020, from complications due to Alzheimer's.

Peter entered the United States in 1957 as a Norwegian Merchant Marine. He married the love of his live of 60 years, Yvonne and raised 3 wonderful children, Michael (Amy), Pete, Jr., and Dawn Weddell Kennedy (Howard). He was a "Pop-Pop" and "Pappy" to seven grandchildren and nine great-grandchildren. He had great connections to sisters/brothers-n-law, mother/father-in-law, nieces, nephews, and they all accepted him as their own.

Peter, aka "Pete the Plumber", started his plumbing company in 1972 in Calvert County which led him into home and land development and finally retiring with Architect of the Capitol as a sheet medalist.

Peter never forgot his home in England nor the wonderful friends and family that never forgot him in their hearts. Peter enjoyed flying his plane, traveling, playing cards, and being with his grandkids. You always found him with a smile on his face and a great sense of humor. All that knew him could not help but enjoy his presence.

In lieu of flowers donations may be made to Calvert Hospice P.O. Box 838, Prince Frederick, MD 20678 and/or Alzheimer Association National Capital Area 11240 Waples Mill Road, Ste. 402, Fairfax, VA 22030.