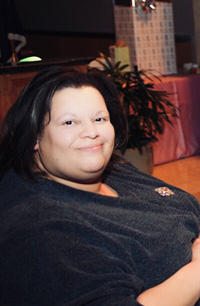 Lisa Joyce Tucker, born to the late Laymon and Leona Tucker, passed peacefully in her sleep at the young age of 59 in Washington, DC on Sunday, April 26, 2020.

Born in Newfoundland, Canada on October 8, 1960, Lisa soon became a Lexington Park, Maryland resident, where she remained, except for her time spent studying at Herkimer College in New York. At Herkimer, her studies included botany and photography. She was a graduate of Great Mills High School where she remained active on the reunion committee. Lisa loved to travel, but the restaurants and Broadway shows of New York City remained a favorite.

Lisa loved spending time with her family, especially the littlest ones, including Jackson & Kayden, and her rescue dog Romeo. She cared for others, especially those in need, and in return everyone cared for her. Lisa valued connection and treasured her friends; even on the worst hospital day visitors would likely get a smile. Her quick wit and talkativeness immediately put you at ease, but behind the charming smile was a dry, sarcastic humor that would surprise you and leave you laughing until you cried.

Lisa was a foodie who loved to try new eateries wherever she visited, frequent her favorite hometown establishments and still enjoyed home-cooked meals from brother-in-law Kelsey and her sister Linda's famous lasagna. She made sure no holiday passed without Lumpia, a personal and family favorite. She was an avid collector of Hallmark Christmas ornaments and shared an extensive clock collection with her late mother, Leona. Though she could often be found watching the news, she was just as likely to kick back in her chair viewing shows such as Mad Men, Law & Order and South Park. Just some examples of her diverse interests and tastes.

Lisa was a dedicated civilian employee at the Patuxent River Naval Base and was looking forward to retirement in the near future. Through her multiple decades there, she enjoyed several roles with different departments, her most recent as a procurement specialist. She made friends at each stop along the way, adding to her collection, especially as she became increasingly involved in the American Federation of Government Employees union after joining in 1997.

Lisa is survived by uncles James Tucker of Oxon Hill, Md. and Roosevelt Tucker of Atlanta, Ga., aunt Gloria Finley of Detroit, MI, sisters Linda Martines of Stephenson, Va. and Leslie Tucker (spouse Kelsey Saunders) of Lexington Park, Md., niece Kristin Hodnett (spouse Michael Hodnett) of Stephenson, Va. and a host of cousins. She was preceded in death by her parents.

All services are pending. Arrangements are being handled by Brinsfield Funeral Home in Leonardtown, Md.

In lieu of flowers and in light of the current pandemic and Lisa's generous spirit, memorial contributions may be made to the Sepsis Alliance https://donate.sepsis.org/ltucker where you can also share your stories and memories with her friends and family on her personal memorial page.