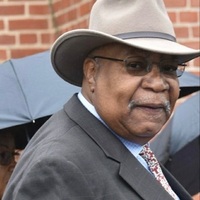 John Vincent Mason was born on April 11, 1944 in Compton, Md. John was the third child of twelve children born to the late Jeremiah Mason, Sr. and Mary Florence Hebb Mason. He was called to his heavenly mansion Sunday morning, April 26, 2020, surrounded by his loving wife and children.

John received his formal education from Banneker Elementary and High School, Loveville, Md., graduating with the Class of 1962. After high school graduation, John attended Morgan State University in Baltimore, Md. He worked for a short while in Washington, D.C. due to being drafted into the U.S. Army. John completed one military tour serving his country the same time as his brothers George and Joseph. Upon being discharged from the U.S. Army, John returned home to St. Mary's County, Maryland.

John then started his civil service career with the Naval Air Station at Patuxent River, Md. where he worked and retired after 36 years and 3 months of Federal Government service. He faithfully continued his military service in the U.S. Navy Reserves, and honorably retired after dedicating over 20 years of service.

John was an active member of the Immaculate Heart of Mary Roman Catholic Church in Lexington Park, Md. for many years.

John was a 32nd Degree Master Mason, Past Master and active member of Joseph A. Egans Masonic Lodge #104 in Valley Lee, Md. and James A. Mingo Consistory Lodge #334 in Accokeek, Md. He also held various positions in the Fidelity Chapter #60 Order of the Eastern Star and MISR Temple # 213 Ancient Arabic Order of the Nobles of the Mystic Shrine in Accokeek, Maryland.

John enjoyed driving his bright blue classic car and his bright red Corvette in car shows with his best friend Vernon Thomas. He loved to sing which was evident when he became a lead singer for the Ralph Butler Rhythm Makers band for many years. John will fondly be remembered for his infectious smile and his baritone laugh. Most of all, John proudly enjoyed being the patriarch of the Mason family and truly showed his love for his family.

John is survived by his wife Bevaline Barnes Mason, and daughters: Sona Powell (William), Sandy Savoy (Francis), and Rhonda Butler (Rufus); and one son, Avell Barnes. John's legacy includes eleven grandchildren: Shanelle Savoy, Nijah Savoy, Trevon Savoy, Kyran Powell, Caitlin Rice, Deja Butler, Avell Barnes, Jr., Jerome D. Jones, Jr., Takisha Jones Kirkner, Randy (Shawnta) Thomas Jones and Denise Golding; and twelve great grandchildren: Shanita Savoy, Braelynn Terry, Lydia Terry-Jones, Alena Terry-Jones, Althea Terry-Jones, Christopher Barnes, LaChe Goldring, Brykel Goldring, Naomi Goldring, Roman Goldring, Inajah Jones, and Rashad Jones. Also left to mourn John's death is one sister, Mary Lillian Jones (Mark Sr.) and, three brothers: James Mason, Douglas Mason (Vicky), and Michael Mason (Phyllis); sisters-in-law: Mamie Mason, Elizabeth Mason, Marie Miles, Mary Young, Elaine Sheffield and Paula Mason; brothers-in-law: Bernard Barnes, Jr, (Lorraine), Nelson Barnes, Chester Barnes (Barbara), Elvert Xavier Barnes; aunts: Agnes Hortense Barnes, Mary Hebb, Rosetta Gough, Linda Dyson (Preston), and Ella Louise Robinson; and, one uncle, Francis Hebb. He was preceded in death by brothers: Jeremiah Mason, Jr, George Mason, Joseph Mason, Thomas Mason, and Leroy Mason; sisters: Maria Nelson (Lorenzo), and Carolyn Mason; one daughter, Charnissa Mason; and, sons Lloyd Jones and Eugene Jones. John's memory will remain in the hearts of many surviving nieces, nephews, family and friends.

Services are private.

Condolences to the family may be made at www.brinsfieldfuneral.com.