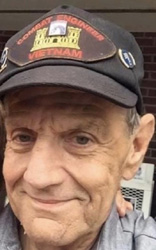 John Raymond "JR" Butler, Jr. 73 of Charlotte Hall, Md. passed away on April 25, 2020 at Charlotte Hall Veteran's Home.

He was born on February 1, 1947 in Worcester, MA to John Raymond Butler, Sr., of Suitland, Md. and the late Marion (Korkus) Butler.

John was employed as a Manager in the automotive industry at Amoco Gas Station in Forest Heights for many years. While there he became well known for providing exceptional service as well as making many lasting relationships with his customers and employees. When he was not working he enjoyed collecting coins, watching sports including hockey and baseball, but, most of all he enjoyed spending time with his family, especially his grandson Kyle.

He is survived by his son, Carl Butler (Jenn) of Callaway, Md.; his daughter, Julie Butler of Melbourne, FL; his siblings, Robert Butler of Waldorf, Md., Richard Butler of Clinton, Md., Russell Butler of Dunkirk, Md.; and his grandson, Kyle Butler. He was preceded in death by his father, John Butler, his mother, Marion Butler, and his sister, Joanne Smith.

Services will be private. Condolences to the family may be made at www.brinsfieldfuneral.com.