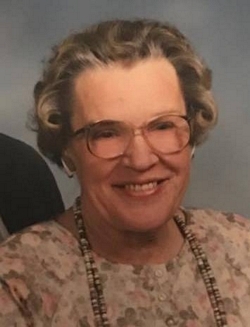 Mary Elsie (Gardiner) Dyson 90 of La Plata, Md., formerly of Hughesville, Md., passed away April 26, 2020 at Hawkins Gate Assisted Living. She was born December 18, 1929 to T. Percy and Catherine Elise Gardiner in Baltimore, Maryland. She grew up on the family farm in Waldorf, Md. She married the love of her life, Charles Reginald Dyson, Sr. (Reggie) on August 13, 1949 and together they had six children.

Mary Elsie worked for People's Life Insurance company prior to starting her family. Later she drove a bus for Keller Bus Service for a few year before her and Reggie started their own school bus business for Charles County Schools. They retired from the business in 1992. Mary Elsie enjoyed spending yime with her family and at the Richard A. Clark retirement center in La Plata, Md., doing dancing, hand bells and the Red Hats. She enjoyed crocheting and playing music.

She was a member of St. Mary's Catholic Church, Bryantown and a member of the Catholic Daughters. She played the organ for the weekly mass services and weddings/funerals at the church.

Mary Elise is preceded in death by her parents, her husband Reggie, her three children, Charles Dyson, Jr., David Dyson and Terry Abernathy and her siblings, Thomas Gardiner, Price Gardiner, Ellen King and Anna Marie Thompson.

Mary Elsie is survived by her daughters, Deborah A. Dean, Marla Joy-Ragab and Regina Estevez (Ricky), her daughter-in-law's, Tracy Dyson (David) and Betty Dyson (Charlie). She also leaves behind, her grandchildren, Lee Dean, Christopher Dean, Mary Beth Dean, Sarah McClure, Kacey Abernathy, JD Abernathy, Tim Dyson, Nick Dyson, Ashley Dyson, Matthew Joy, Andrew Joy, Jennifer Joy, Maria Estevez, Louie Estevez and great-grandchildren, Aria Barnes and Jett Dyson, step great grandchildren, Layla Brewer, Emily and Anna McClure.

A celebration of life will be celebrated at a later date.

In Lieu of flower, memorial contributions can be made the Alzheimer's Association, Hughesville or La Plata Volunteer Fire Departments.