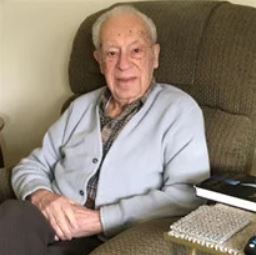 Leonard A. De Nittis of La Plata, MD died peacefully at his home on April 25, 2020 at the age of 92. He was a member of Sacred Heart Catholic Church in La Plata where he had been an Extraordinary Minister of Holy Communion. He served in the US Navy and was a retired professional architect. He loved his family and his Catholic faith.

Leonard was born January 30, 1928 in the Bronx, New York. He was the son of the late Leonard De Nittis and the late Amelia Zampino De Nittis. In addition to his parents, he was preceded in death by his wife Carol, his son Richard, his daughter Mary, as well as his brother George.

He is survived by his children daughter, Christine De Nittis Ambrogio and her husband Eugene; son, Leonard De Nittis and his wife Lucy; Elizabeth, wife of his deceased son Richard De Nittis; and six grandchildren, Carolyn Ambrogio Parson (Tracy), Paul Ambrogio (Lauren), Mother Immaculate Conception Ambrogio, SSVM (Kathryn Ambrogio), Christopher De Nittis (Elizabeth), Michelle De Nittis Keeton (Matthew), and David De Nittis (Heather). He is also survived by 19 great grandchildren.

Due to Coronavirus restrictions at this time, Mass and burial will be private.

Memorial contributions may be made to Servants of the Lord, Immaculate Heart of Mary Convent, 28 Fifteenth Street, SE, Washington, DC 20003 (Attn: Mother Immaculate Conception Ambrogio, SSVM pr donate online: ssvmusa.org) or Sacred Heart Catholic Church Cemetery Fund, PO Box 1390, La Plata, MD 20646.