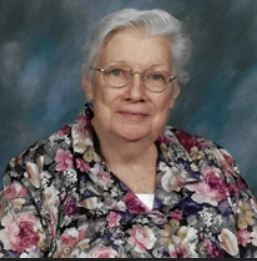 Anna Lee Breitenbach, 88, of La Plata, Maryland, died on April 23, 2020 at Sage Point Nursing and Rehabilitation Center. She was formerly Anna Lee Mills.

She was born on November 8, 1931 in Washington D.C. to Mary Squires Hyde and Ralph Mitchell Lorenz. The youngest of five children, she was reared on Washington Avenue at The Homeplace in La Plata. A lifelong resident of Charles County, Anna Lee enjoyed volunteering in the Physicians Memorial Hospital snack bar and as a cub scout den mother in her early twenties and later was a hospice volunteer. Her creative endeavors produced beautiful hand-sewn clothes, acrylic paintings, hand-painted china, and many floral arrangements, bouquets and corsages for the weddings of friends and family. She assisted her husband, James Mills, in his restaurant business in the 1960's and 70's first at the Horseshoe Club and then at Jimmie's Paddock and later managed La Plata Florist. She traveled with her second husband, Bill and watched many Redskins games with him and a crowd of friends. Of the Catholic faith, she was a member of Sacred Heart Church in La Plata and an acolyte minister of Holy Communion. Wherever she lived in the county, she blessed new friends with her sense of humor and listening ear, including many of the residents at her most recent home at The Maples in La Plata.

In addition to her parents, she is preceded in death by her second husband, William John Breitenbach and her ex-husband and friend, James Monroe Mills Sr, her brother, Charles Lorenz, and her sisters Frances Winkler, Harriet Hoover, and Mary Evelyn Terrien. She is also preceded in death by her son, Stephen Andrew Mills ("Andy"), and grandsons Gary D. Willett, Stephen Andrew Mills II ("A.J.") and Michael James Mills.

She is survived by her children James Mills Jr. of White Plains, Maryland, Bob Mills of White Plains, Maryland, Mitch and Jeanne Mills of Bel Alton, Maryland, Kathy and Ford Flannagan of Richmond, Virginia, and Patrick and Vivian Mills of Cortaro, Arizona. Her surviving grandchildren include Terri Willett of White Plains, Maryland, Jim Mills III of Virginia Beach, Virginia, Brian Mills of Charleston, South Carolina, Melissa Mills of White Plains, Maryland, Will Mills and Renee Mills of Cortaro, Arizona and Andrew Mills and Mary Mills of Bel Alton, Maryland; 10 great grandchildren; and special family members Joyce Edelen, Mary Beth Chandler and Suzanne Carr.

Immediate family will honor her memory in a private mass at St. Joseph's in Pomfret, Maryland, to be buried near her son, Andy and her grandson A.J. A celebration of life service is planned for the future with no specific date at this time. In lieu of flowers, memorial contributions may be made in her honor to Hospice of Charles County, 2505 Davis Rd. Waldorf, MD 20603.