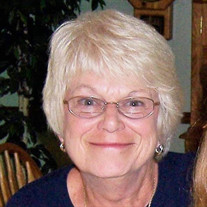 Virginia Anne "Jan" Pester, 73, of Waldorf, MD passed away peacefully on April 21, 2020 from complications of pneumonia.

She was born April 30, 1946 in Sussex, NJ and lived in many other states, including New York, Pennsylvania, Delaware, Georgia, Hawaii, and California.

She is survived by her loving husband of 53 years, Jim; son, David; daughter, Lori Baker and husband Reed; grandchildren, Lanie and Teddy Baker; and her sister, Martha Murphy.

Jan was a beautiful, kind person inside and out and spent much of her time helping others. She loved animals and planned fundraisers for the Humane Society of Charles County for many years. She also loved interacting and helping people as a drive-up teller for BB&T Bank and as a volunteer in the Emergency Room at then CIVISTA Hospital. She enjoyed traveling with Jim, relaxing in the sun by the pool, visiting yard sales, eating out with friends and family, and adoring her grandkids. Jan will be dearly missed by family and friends.

In lieu of flowers, memorial contributions can be made to the Humane Society of Charles County, PO Box 1015, Waldorf, MD 20604 or to the Appalachian Service Project at La Plata United Methodist Church, 3 Port Tobacco Road, La Plata, MD 20646.

A celebration of life will be held at a later date.